Looking to buy a Bowflex Max Trainer Elliptical machine but unsure if it's good for you?
We've got a comprehensive guide that will help you decide whether the benefits of the Bowflex Trainers outweigh their drawbacks (and if they're worth it!).
Let's dive right in.
What Is the Bowflex Max Trainer Series?
The Bowflex Max Trainer series is a line of products, namely the M6, M9, and Max Total 16, made by the fitness company Bowflex.
They combine stair stepper and elliptical machines to make workouts more efficient.
These machines are meant to be used for high-intensity workouts like sprint interval training. However, they can be used for aerobics training, too.
These low-impact workout programs can only be done with specific equipment, as running outside can be impossible for those with health conditions like older adults.
Bowflex Elliptical Benefits
There are many benefits of using Bowflex Elliptical machines:
1. Integration With Bowflex's JRNY App
The Bowflex Max Trainer line comes with a one-year subscription to the JRNY app. This app helps you organize and schedule your workouts better.
The seamless integration of the app with the machines is more convenient than downloading other apps and having to input settings manually.
The app also takes the data from Bowflex Max Trainer models' readings of your vitals and considers it when planning or suggesting fitness goals.
Providing a relevant experience with the data it collects is one of the most significant advantages of an integrated app: less stress and more workouts.
2. Promotes Better Quality Sleep
Getting a good night's sleep is essential for your physical and mental health.
Regular exercise on workout machines like an elliptical can tire you out and reduce the chances of insomnia or feeling restless when in bed.
Expending your energy through fitness and exercise is one of the best ways to get tired healthily.
3. Helps With Weight Management
Any healthcare professional will tell you that regular exercise and a healthy diet helps in general fitness levels and weight management.
The best thing about using elliptical machines, stair climbing machines, or a combination of the two is that they simultaneously work out the upper body and the lower body.
This increases the amount of muscles being strained, which increases metabolism as more parts of your body need energy.
Calorie burn is one of the most significant benefits of using a Bowflex Max Trainer regularly.
According to Bowflex, 15 minutes of intense workout with one of their products can burn a ton of calories — something that competitors might not be able to do as efficiently.
Elliptical machines are also considered low-impact workouts. These workout programs help overweight patients get exercise with a lower risk of injury.
4. Decreases Risk of Some Diseases
If there's one thing a healthcare professional wants, it's to decrease their patients' risk of getting any disease.
Research has shown that using elliptical machines, stair climbing machines, or other comparable machines works out both the lower and upper body.
This increases the effect on the cardiovascular system and general health, which reduces the chance of heart disease, type 2 diabetes, and some cancers.
Bowflex Max Trainers increase this effect by adding other types of exercises that are more dynamic than what other machines can deliver.
5. Increases Bone and Muscle Strength
Regular exercise also increases a person's bone and muscle strength. However, some workouts don't exercise enough body parts to do this evenly throughout.
Bowflex Trainers help by exercising more body parts so that the growth is proportional throughout.
Having weight training only on the upper body may result in a solid upper but weak lower body.
You can do many exercise programs focusing on one specific area of the body at a time or many parts simultaneously using new machines like the Bowflex Max Total 16.
Interval training is essential for muscle and bone growth because it builds strength through short bursts of high-intensity workouts. Bowflex Max Trainers deliver these kinds of exercises.
The Bowflex machines also include multiple resistance levels, so your muscles can be strained to proper levels each workout!
6. Multiple Workout Programs on a Single Machine
Most workout programs must be done using multiple machines, weights, and even involve running outside.
However, machines like the Bowflex Max Trainer models have multiple types of programs pre-saved for people to pick up and use.
Even if you want a custom program to exercise specific body parts, the Bowflex Max Trainer series offers that!
Having just one machine that does many exercise programs is convenient and saves space, especially in smaller home setups.
Data about your workouts also gets sent to the app and saved alongside specific workout programs you have saved.
Bowflex Elliptical Risks & Drawbacks
With the benefits of these machines also come some drawbacks. Here are some things you need to be wary about:
1. You Need to Consult a Doctor Before Using
Just like with any workout machine, it's always best to consult your doctor before using them.
Even if Bowflex Max Trainers are low-impact workout machines, they still have many moving parts and require specific movements to operate.
If your assigned healthcare professional doesn't think you should use the machine, you're out of luck.
However, many professionals recommend using these workout machines over treadmills for people requiring low-impact workouts.
2. Accidents With Machines Can Happen
You've probably seen videos of freak accidents involving gym equipment online. There are many.
Like any gym equipment, Bowflex Max Trainers are machines with moving parts. Losing your balance and tripping into the machine will seldom happen, but there's still a possibility.
Balancing the risks with the benefits when it comes to exercise is paramount.
If you've used a machine like the Bowflex Max Trainer models and injured yourself before, maybe reconsider getting one.
3. Takes Up Space in the Home
Like any home gym equipment, the space they take up is essential because there isn't much of it.
A big machine like any Bowflex Trainer can quickly eat up the space you may need for other workouts.
Check out the space available you have at home and the dimensions of the machines first before buying.
4. Even the Cheapest Model Is Still Costly
The Bowflex Max Trainer lineup has many features and health and fitness benefits, but the price can be too high for some.
The cheapest model available directly from Bowflex on this list is the M6, which is around $1500. Budget treadmills, in comparison, cost as low as $200.
This can be a steep hit on a budget of people looking for cheaper options to improve their fitness level.
5. App Has an Expensive Monthly Subscription
After the first free year of the JRNY app, it will start charging you from $14-$19 a month, depending on your chosen subscription.
This additional cost is more expensive than many other fitness apps. Some are free, and many offer a one-time purchase as well.
Who Should Buy the Bowflex Max Trainer?
The Bowflex Max Trainer series is for people needing an all-in-one aerobic workout machine that combines elliptical and stair climbing features.
The Bowflex Max Trainers are also for fitness gurus and home exercise enthusiasts who want to have integrated technology into their workouts for added convenience.
People who need to exercise but can only do so through low-impact exercise should consider this a home option.
If you want to take care of your knees and other joints, the Max Trainers is also a good product line.
Who Shouldn't Buy the Bowflex Max Trainer?
People on a tight budget who can't spend more than $1000 on fitness equipment should give the Bowflex Max Trainer line a pass.
Those who are injury prone when using elliptical, stair machines, or machines similar to these should also consider not getting any Max Trainer product.
If you never use any of the tech features like the app or Bluetooth connectivity on any fitness equipment, consider getting another product that may be cheaper or have better value for you.
If you need constant hydration during workouts, only the Max Total 16 offers a water bottle holder.
Frequently Asked Questions
After finding out more about the Bowflex Max Trainer machines and their pros and cons, you may still have some questions. We've answered the most commonly asked ones below:
Is the Elliptical Good for Losing Belly Fat?
Machines similar to an elliptical like the Bowflex Max Trainer are great options for losing belly fat.
These machines focus on giving the user aerobic exercise and can utilize either multiple muscles or only a specific group. This can be adjusted in the settings or the app.
High-intensity exercises in intermittent bursts encourage higher metabolism levels, which helps burn fat.
Bowflex claims that their Max Trainers can help you burn tons of calories and, in turn, lose belly fat with regular 15-minute exercise.
What Muscles Do Bowflex Max Trainers Target?
Bowflex Max Trainer products focus on exercising the upper and lower body and the whole cardiovascular system.
The stair stepping function of the Bowflex Max Trainer gives a workout to the lower body, including muscles like the quads, hamstrings, glutes, and calves.
The dynamic handles on the Max Trainer machines help with upper body training, giving a workout to the biceps, triceps, shoulders, and upper back.
Some core stability is also needed to do the workouts correctly.
However, the Max Total 16 has only options for upper body workouts, while the Bowflex Trainers require both to be done simultaneously.
What's the Difference Between Bowflex Max Trainers and Regular Elliptical Machines?
The most significant difference between ellipticals and Max Trainer machines is the motion of the legs.
While ellipticals use a flat forwards and backward motion, the Max Trainers use an inclined up and down motion.
The Bowflex Max Trainers are more of a cross between ellipticals and stair-stepping machines.
Is the Bowflex Max Trainer Bad for the Knees?
No, they're not bad on the knees. They're beneficial and protect the knee joints compared to other machines like treadmills!
While most modern treadmills include cushioning, the impact still puts a heavy load on a person's knees compared to an elliptical or Bowflex Max Trainer.
This is because Max Trainers have secured foot pedals that move alongside your feet instead of leaving a surface and impacting it multiple times.
What Are the Side Effects of Using Bowflex Max Trainers?
General muscle soreness and fatigue are normal after any strenuous physical activity.
However, if you have never used a similar machine before, the new movements may be jarring for your muscles, making them hurt a bit more.
This will go away with proper rest and when your muscles get used to the movements and resistance. If the symptoms persist, you may want to contact your doctor.
Alternatives to Bowflex Max Trainer Products
Before springing for one of the models we've talked about, you may want to consider some alternative products that might better fit your needs.
Bowflex Treadmills
If low-impact isn't a requirement for you, and treadmills are more your speed, you may want to look at Bowflex's T10.
It has the benefits of the Max Trainer, like Bluetooth connectivity and compatibility with the JRNY app.
It even has a higher maximum user weight of 400 pounds.
However, it's more expensive than the cheapest Max Trainer model, starting at $1,999.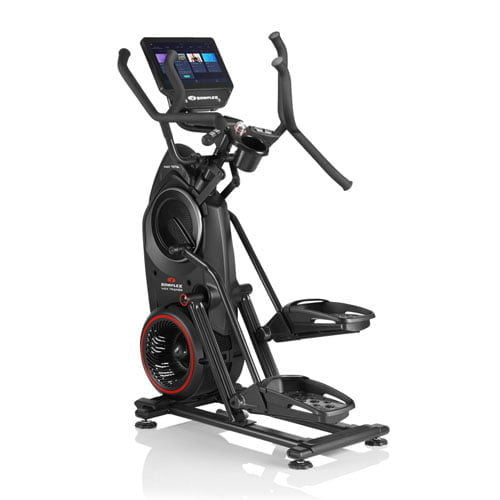 Bowflex Exercise Bikes
If an exercise bike is more your speed, Bowflex has the Bowflex C7 Bike model.
It's an exercise bike that includes all the features that the Max Total 16 has, but at only around $1200.
It has streaming capabilities and different resistance levels. It can connect to third-party cycling apps too.
These creature comfort features deliver a quality, invaluable service you can enjoy at home.
Unfortunately, one downside is missing a water bottle holder, a standard feature on most exercise bikes.
PRO TIP: If you're exercising, but your machine has no water bottle holder, there are many bottle holder attachments you can buy online to attach to the machine.
Conclusion: Is the Bowflex Elliptical Machine Worth It?
The Bowflex Max line is well-rounded and offers many products at different prices.
It's great for people who need low-impact but high-intensity exercise and need to exercise more body parts.
One of the standout features is the JRNY app, which allows seamless data syncing with the machines for ultimate customization of your exercise experience.
The Bowflex Max Trainers are a great line of products and will be worth it if they meet your needs!