Bowflex is the home fitness brand you can trust. Take a peek at their machines and equipment to see how they can help you become "Stronger Every Day."
Bowflex Brand – Introduction
Bowflex is THE brand when it comes to home fitness equipment. In fact, they pioneered the home gym concept, giving users the chance to develop an active lifestyle from the comfort of their homes.
Since 1986, they've been at the forefront of technological innovation.
Bowflex has been in the business for almost 40 years, going from strength to strength, helping everyone from bankers to bikers to bodybuilders to achieve their physical goals.
While their competitors were making clunky gym machines you'd need a warehouse to use, Bowflex made lightweight, affordable, and effective equipment that works for you.
Bowflex believes in its motto, "Stronger Every Day," and strives to help you reach your goals, giving you the body you want and the life you need.
No matter your fitness goals, they've got just the thing to help you make it happen.
Who Is Behind Bowflex?
Bowflex is made by and for people from all walks of life. They've got people from every generation, every fitness level, and every physical background possible contributing to our success.
This success started in 1986 with the sale of their first machine: The Bowflex 2000X. This unique design pushed the boundaries of what was possible in an exercise machine.
For the first time, people didn't need to head to their local gym or sports center to get toned abs and firm bodies. They now had the ability to build it in their living rooms.
Bowflex's success has allowed them to become a major player in the fitness industry.
Stairmaster, Schwinn Fitness and Modern Movement have all joined the Bowflex Family.
The Bowflex brand and the rest of Nautilus Inc. will continue to develop fitness machines to meet your needs. If you've set a goal for yourself, they're all in on helping you reach it.
The Bowflex Product Line
Bowflex's home cardio machine line is second to none on the market. They've got all the machines you'd want in a home gym set-up, from treadmills to exercise bikes and even ellipticals.
Let's run through the list of some of the products that have made them a fixture in thousands of homes:
Treadmills
These are the running machines to get you energized, giving you the runner's high you need to face the day.
They'll get you heart-healthy with that shredded physique you've always wanted. Not to mention, you'll be able to outperform your biggest competitor: your previous self.
Bowflex T10
The Treadmill 10 is fully JRNY-integrated. It can have you running across hundreds of virtual environments at your best speeds and neatly folds up when not in use.
Did we mention that you can also catch up on your favorite streaming shows during your morning jog?
Bowflex T22
The Treadmill 22 is a heavy-duty machine that can take a pounding while keeping you on the right path. It's reliable and easy to use, but it gives you the challenge you're looking for to start the day right.
It has all the best features of the T10 but with an HD touch screen twice the size to boot.
Exercise Bikes
Get your legs moving and your heart pumping with these racing-level stationary bikes. They'll have you flying by the edge of your seat in no time.
Bowflex C6 Bike
The affordable C6 bike can help you jumpstart your fitness journey, offering you a pleasant or competitive ride with none of the grinding sounds from lower-quality bikes.
Measure your progress and heart rate and see where this excellent bike leads you.
Bowflex C7 Bike
Boost your endorphins and give yourself positive energy to help you dominate the day ahead.
Experience over 100 resistance levels and even work your arms with the 3 lb dumbbells included with the Bowflex C7 bike.
Bowflex VeloCore Bike
The versatile VeloCore Bike is the pinnacle of stationary-bike technology. It works great for beginners and advanced cyclists alike, allowing you to choose the position that meets your fitness level.
It has a huge screen that can help you race other people digitally or even watch some of your favorite media while you squeeze in a light workout.
Ellipticals
These specialized trainers will have you feeling like you're conquering new heights and climbing impossible mountains, all before heading off to work.
See how these machines can help you build dynamic strength while getting your heart racing and giving you a good sweat.
Bowflex Max Trainer M6
The Max Trainer M6 may look like something out of a sci-fi movie, but it'll take your physical gains into the future thanks to its 16 levels of resistance and burn-rate display.
It'll have you pedaling at full speed and put you on the fastest route to a high-cardio workout.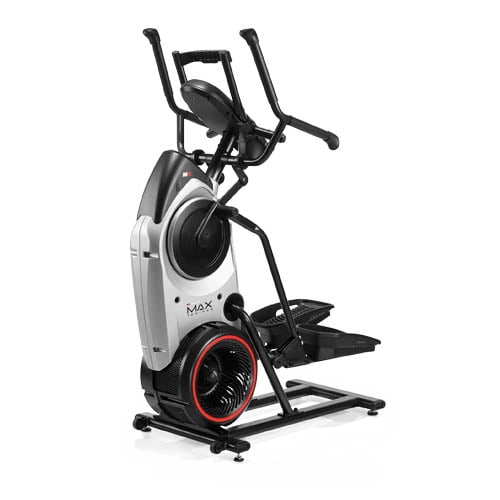 Bowflex Max Trainer M9
The Max Trainer M9 has full JRNY integration, allowing you to undergo high-intensity interval training while customizing your fitness journey and stat tracking to meet your needs.
It has versatile ergonomics and everything you can want from an elliptical machine.
Bowflex Max Total 16
The Max Total 16 is the top of the Bowflex elliptical line. A Bowflex exclusive, this machine allows you to perform adaptive, high-performance cardio and monitor everything from a 16-inch touchscreen.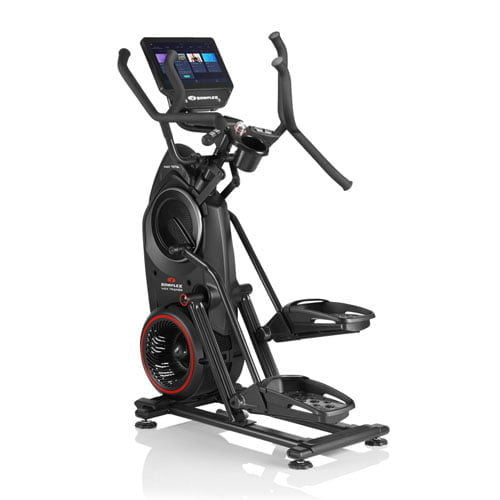 Bowflex Awards
Bowflex has been in the business for a long time. They've racked up some significant accolades in that time, being recognized for the best of their products:
About.Com Reader's Choice Award 2012
About.Com Reader's Choice Runner Up 2013
International Design Awards Gold Medal 2013
Reddot Design Award 2015
Reddot Best of the Best Award 2016
German Design Award 2017
ISPO Product of the Year (Health and Fitness) 2017
EllipticalReviews.Com Best Buy 2020
Bowflex Warranty
Bowflex is a company that provides lifetime care and customer service for all their users. This means offering warranties and long-term protection for every machine.
Ellipticals
Bowflex ellipticals all come with a 90-day warranty for labor, a 3-year frame warranty, and 3-year parts warranty.
Warranties on labor and parts can be extended to 3 years and 5 years, respectively, if purchased.
Exercise Bike
Bowflex bikes all come with a 1-year warranty for labor, 1-year warranty for electronics, 3-year frame warranty, and 3-year parts warranty.
Warranties on Labor and parts can be extended to 3 years and 5 years, respectively, if purchased.
Treadmill
Bowflex treadmills come with a 1-year warranty for electronics, 2-year warranty for labor, 5-year warranty for mechanical parts, and a whopping 15-year warranty for both frames and drive motors.
Warranties on labor and parts can be extended to 5 years if purchased.
Does Bowflex Offer Discounts for First Responders or Healthcare Workers?
Health is wealth, and healthcare workers and first responders are responsible for keeping us working as we should. That's why Bowflex believes in caring for them like how they care for us.
The company offers $200 healthcare coupons that can be availed with any Bowflex order. The company also offers several coupons across dozens of sites. It's just a matter of knowing where to look.
Conclusion
Bowflex is an excellent brand that wants you to achieve your best self and enjoy your fitness journey.
We believe in consistency, hoping that you get stronger every day, and we'll keep making home fitness machines to help you achieve your goals.