NordicTrack Elite Treadmill
The NordicTrack Elite Treadmill makes most treadmills and other models in the NordicTrack line look like scrap metal thanks to its premium design, huge screen, and workout versatility.
Brand reviews often overlook the NordicTrack Elite Treadmill. This is a mistake since it's a treadmill that gives customers full control over their health and fitness performance.
The Elite is notable for two things: its 32-inch HD screen and 40% incline. These two traits set it apart from the rest of Nordictrack's fleet and position it at the head of them.
While I could go on and on about the benefits of having a large screen size, the main benefit is access to iFit and any manner of virtual instructor it brings.
Combine this with its 12 mph max speed and high incline rate, and you'll be able to walk, run and push your distance across any virtual space while being coached by some of the best runners on Earth!
The Elite is designed with user comfort, stability, and improvement in mind. It's designed for hardcore fitness enthusiasts and adventurers to be able to experience the thrilling great outdoors from the comfort of their own homes.
Not to spoil the rest of this review, but my opinion on this treadmill is overwhelmingly positive. Combined with iFit's ever-expanding library of workout classes, it is one of the best treadmills available.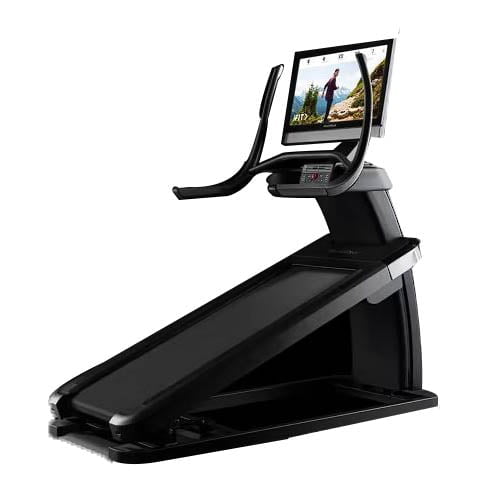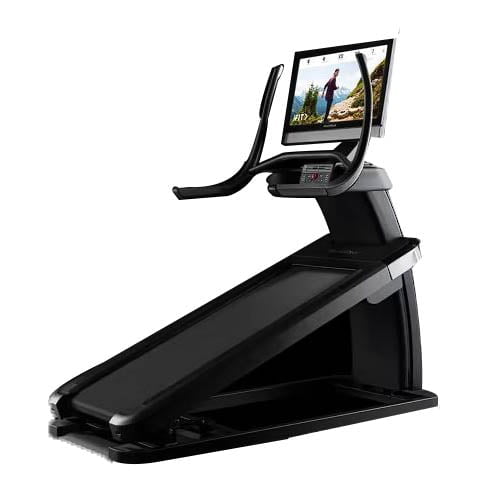 Pros
Here are some of the things I liked the most after going through my NordicTrack Elite treadmill review:
The iFit interoperability puts you in the hands of a professional instructor, with your trainer even gaining remote access to your incline and speeds for an extra challenge
The HD touch-screen console has an extraordinary screen size, allowing you to see everything in crisp detail that refreshes your mind, pushes your body, and won't hurt your eyes.
The 10-year frame and 2-year parts warranty allow you to avoid catastrophic malfunctions or the need to shell out more money on a replacement.
The incline is unlike any other, giving an extreme physical challenge that I didn't think possible on a treadmill. It almost acts like a stair-climber and leg press at the highest level
The pivoting screen allows you to engage in workouts beyond the ones connected to your treadmill.
It's ergonomically designed with space for your water bottle, a cooling fan to keep you from overheating, and sturdy construction to keep you from falling off at the highest angle
Cons
No treadmill review would be complete or honest without reviewing some of its flaws.
The NordicTrack Elite treadmill is as close to perfection as a treadmill can get, but here are a few cons that, based on my experience, take some of the joy out of this juggernaut.
Most of the features are only accessible with an iFit subscription, which you lose after the first month unless you decide to renew
It's an expensive model only made for those with serious cash or a serious need for this heavy-duty purchase
520 lb box weight for a 300 lb user limit makes it not ideal for those who prefer a heavier-duty treadmill or a more lightweight one
Requires dedicated space and assembly payment for it to fit in the room you plan on leaving it in
The screen may be too large and distracting if you're using it in manual mode without subscribing to iFit
Features
No NordicTrack Elite treadmill review would be complete without looking at the unique features that make it such a capable workhorse.
Let's go through some of these features I found most useful:
The treadmill is iFit-enabled, allowing you to perform Yoga, calisthenics, and running workouts while being led by a digital instructor
Max speed of 12 MPH thanks to its 3.6 CHP motor
-4% decline and 40% incline are the highest in the industry
Heart-rate monitor and AutoBreeze cooling fan built-in
22 x 60 running surface is wide without taking up too much space in between workouts
32″ rotating & sliding Smart HD touchscreen
HD graphics with processor cooling
Dual 2.4 GHz & 5 GHz WiFi Connectivity
One-Touch controls and Smart Response Drive System
300 lb user capacity
Reflex Cushioning with lower step-up height
HD Touchscreen
NordicTrack home treadmills are designed with console screens built into the deck, or in the case of the Elite, designed to swivel freely independent of the treadmill it's on.
These allow customers to experience custom iFit workouts that match their mood, training regimen, or incline. There's a class and instructor for every scenario, allowing you to perform workouts you didn't think possible.
The Elite is the best example of these NordicTrack screens. It features 32 inches of pure screen length, one of the largest on the market, allowing runners to run on virtual paths in all their glory.
It allows them to monitor and record all their vitals, personal bests, and any progress made, and even play music via Bluetooth or the built-in speakers. It even pivots in case you want to use iFit without the treadmill.
Having a big screen allows customers to focus on their run without bending down to see the necessary information. Thanks to Google maps, you can visualize yourself running trails and even exploring the world!
I recommend the Elite for those runners looking to go on guided workout sessions while being guided by world-class instructors. It's also great for those serious runners looking to record and note their progress.
King of the Incline Trainers
This trainer treadmill was designed with one thing in mind: INCLINE. This particular model is the incline master.
The Elite dominates all other home treadmills when it comes to incline, with its 40% incline maximum capacity making it one of the best incline trainers ever made.
Combine that with its -4% decline, and that's one thing it has to help you build power and speed and have fun along the way.
When training using this incline treadmill, you'll notice that the frame is built to support the belt assembly as it ascends, giving you stability while maintaining motor strength and consistent motor function.
While the running surface doesn't change, reaching the 12 MPH speed limit becomes nearly impossible when you're at the same angle you would be if you were running up a mountain trail.
This makes training on the Elite all the more challenging, and its huge deck screen size more necessary. The screen allows you to visualize the mountain you're climbing via iFit.
I can thus recommend the Elite for anyone looking to climb mountains, run long-distance across uneven terrain, train for every possible environment, and anyone just looking to go beyond the usual incline.
Price
No Elite treadmill review would be complete if we didn't go over the price of these premium home treadmills. Because of its huge incline and swivel screen, this treadmill costs more than a pretty penny.
If you're interested in buying an Elite treadmill, you'll need to get ready to pay $4,499 + $299 Room of Choice Delivery and assembly for a total of $4,798 if you charge it outright.
Alternatively, you can choose to finance the cost at $124 a month for 39 months, which I've found to be more manageable than shelling out almost $5,000 in one go.
The version with the 22-inch console screen costs a little less, but still bears a hefty price at $3,499 + $299 Room of Choice Delivery or $98 a month for 39 months.
This treadmill is a real investment, with fees hitting you left and right, not to mention potential motor repairs, labor, and the need to subscribe to iFit for access to a digital trainer.
Warranty
Users can rest assured knowing that the price of their Elite Treadmill includes a warranty. NordicTrack backs its users with several warranties, in fact, ensuring their home treadmills last at least a decade.
The main warranty NordicTrack backs users with is a 10-year frame warranty, providing them with support should something go wrong with their console screen, deck, belt, or outer assembly.
The treadmill also comes with a 2-year parts warranty to fix your motor, belt system, and other internals that may keep treadmills from functioning as they should.
Lastly, the Elite treadmill also offers a 1-year labor warranty, allowing you to schedule repairs, assembly, and reassembly within a year of your treadmill arriving at your doorstep.
These warranty practices are in line with other NordicTrack treadmills and give you peace of mind knowing that if your treadmill stops working, you don't need to worry or start saving up to buy a new one.
Dimensions
The entire body of your Elite Treadmill measures 80″ H x 81″ L x 38″ W. Of that frame size, the running surface is measured to be 22″ x 60″, which is on par with the running surface of other NordicTrack models.
The frame, motor, deck, and screen size are positively huge, even by NordicTrack treadmill standards. However, it still gives you enough floor-board and workout space if you want to do Yoga or calisthenics.
The only downside of its 80″ H x 81″ L x 38″ W with a 32-inch screen is that once labor is done and your treadmill is assembled, the frame is fixed and doesn't fold away neatly like other treadmills.
You lose access to the valuable floor area under your deck, which makes motor repairs, and an iFit class that doesn't involve the treadmill proper more difficult to execute.
That said, the treadmill isn't too big for its screen and running surface, and it shouldn't take up too much floor space. I can recommend it to those with enough dedicated floor area!
iFit
The iFit app is a unique training program that gives users access to thousands of virtual workouts led by professional trainers.
It ably takes you to hundreds of exciting locations from the comfort of your console screen!
The iFit app is designed as the ultimate exercise companion, and with the huge screen of the Elite Treadmill, it can guide you through everything from strength training to weight training and more.
It has a workout class for every possible exercise you'd want to do.
Walking? No worries!
Practicing for an uphill climb? It can automatically adjust your decline and incline!
By combining iFit with your Elite Treadmill deck screen, you can turn its flat running surface into a run along a canyon, practice for cross-country treks, or train for that half-marathon you're joining.
It turns your treadmills into virtual running environments, and iFit can even remotely interact with your treadmill frame, automatically adjusting your speed and incline depending on your virtual training.
While an iFit subscription costs an additional $39 a month, I've found it to be the glue that really holds the Elite treadmill together and unleashes its full potential.
If you're looking to make the most out of your screen and test the limits on what kind of workouts are possible on a treadmill, then I highly recommend pairing your Elite with iFit.
Frequently Asked Questions Answered by Users
There's no doubt that the Elite is a contender for the best treadmill to walk, run, sprint, and exercise. Combined with its 32-inch screen, it's seemingly unstoppable.
Curious customers may still have questions about this beast of a treadmill.
Not to worry; I've got you covered. Let's answer some of the most important questions this treadmill raises:
How much does a NordicTrack Elite Treadmill cost, and is it worth the price?
The Nordictrack Elite features everything you could want or need in an elite treadmill. Its premium construction, running surface, and huge deck screen make workouts worth it but also raise the price.
The Elite Treadmill goes for a whopping $4,499, more than any other treadmill in its class. It will get you from walking to a speed you've never seen before. Incline and decline also make you a better athlete.
Its motor is powerful enough to sustain speeds up to 12 MPH, its deck is filled with useful items, and its screen is unparalleled by any other treadmill. The Elite design is truly…elite.
I'd say that in the search for the best treadmill possible, few other pieces of athletic equipment come close to the Incline and comfort levels the Elite offers. I find it to be worth every penny.
Can I train for a marathon using a treadmill?
A marathon, or 26.2 mile/42 km long-endurance run, is no easy feat. Not everyone can just decide to "run a marathon" and do it. It takes practice, training, and losing weight to do it.
Fortunately, the Elite Treadmill by NordicTrack is one of the most capable incline trainers that can have customers going from walking to sprinting with consistent practice and speed elevation.
Certain treadmill features like heart-rate monitoring and speed, incline, and decline manipulation make it a perfect match for training the cardio endurance necessary for marathons.
Another benefit of using a NordicTrack treadmill is combining it with iFit, which has programs that can help subscribers train specifically for marathons via workouts appearing on your console screen.
Is the Nordictrack Elite Treadmill easy to move?
NordicTrack has plenty of treadmills that are measured and designed with wheels or folding components that allow them to be moved regardless of their weight or frame size.
Unfortunately, the Elite treadmill is NOT one of these treadmill designs. Its motor, deck, console screen, and class are all made to be heavier-duty and larger than any other NordicTrack treadmill.
This is why customers are asked to pay an additional $299 for in-room delivery and assembly. The treadmill is too heavy to move once assembled. You should be sure of where you want it to be before setting it up.
While there are plenty of lighter treadmills out there, The Elite treadmill was made for athletes or fitness buffs whose lives and rooms can revolve around the weight of running.
Do elite runners use treadmills?
NordicTrack designs its treadmills for the most elite runners in the world. The Elite treadmill line embodies this fact.
It's designed to maximize training and help runners give their best effort every session.
While the 22 x 60″ running surface may not seem like the best place to run, it's a controlled environment that allows runners to practice their technique, enhance their speed, and track their progress.
A treadmill frame allows elite runners to push themselves while having measures that prevent them from getting injured should they bog down. It allows them to adjust incline and decline without worrying about natural hurdles.
Treadmills are a safe way of losing weight and practicing for events without overheating or being exposed to the elements. It allows coaches to easily hand them a water bottle or push them further.
Can I use the Nordictrack Elite without an iFit subscription?
NordicTrack treadmills come equipped with a free 30-day iFit subscription to allow runners to maximize their training experience and turn their 22 x 60 running surface into every environment possible.
After that expires, however, it should delight customers that their treadmills will continue to work even without a monthly iFit plan. You'll still be able to use it in manual mode.
You will still be able to adjust your speed, incline, and decline settings on your console screen. Your motor will still run, and you'll be able to use the Elite as a standard treadmill.
That said, not having iFit on your treadmill is a waste of its huge console screen and your potential as a runner. Maintaining iFit will allow you to make the most out of your workouts.
NordicTrack Elite Treadmill Bottom Line Review
The Nordictrack Elite Treadmill is an impressive machine that outclasses and outperforms most treadmills available commercially.
It features an HD touchscreen with an enormous screen size that, when paired with an iFit subscription, can have you walking, jogging, and sprinting like you've never done before.
I wholeheartedly recommend the NordicTrack Elite home treadmill if you have the necessary money to purchase it.
It can elevate your workouts and support your fitness journey, unlike any other treadmill!