NordicTrack Commercial X32i Treadmill
The NordicTrack Commercial X32i is a high-tech incline treadmill with a higher elevation and a more powerful engine than regular treadmills to help you achieve your fitness goals.
I have read some brand reviews and evaluated treadmills for a while now, and I know the warning signs and characteristics of a quality treadmill.
I am aware that buying a treadmill requires a significant financial commitment.
In this article, I will cover all the details you need about this treadmill, hoping you can bring one home that is ideal for you.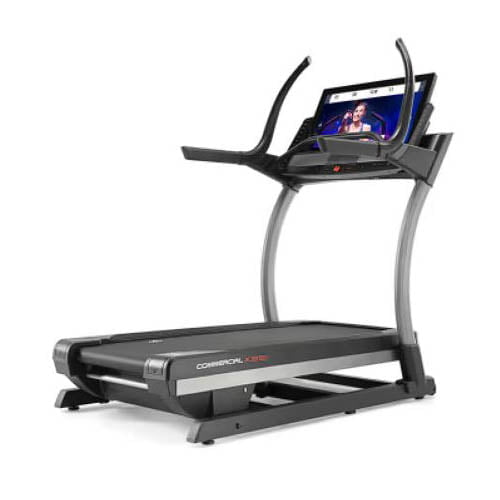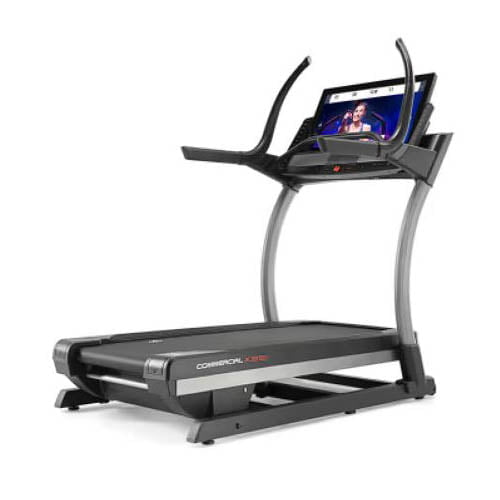 NordicTrack Commercial X32i
Pros
Quiet drive incline tech
Global workouts and studio sessions
Self-cooling treadmill prevents overheating
Free trial of an iFit Family membership for one month
Impact shock is reduced by reflex cushioning by up to 40%
Maximum Speed Range with QuickControls from 0 to 12 MPH
Faster and more responsive 32″ Smart HD Touchscreen upgrade
Reduced buffering time because of enhanced WiFi connectivity
Non-stretch tread belt measuring 22 x 65″ with balanced non-flex rollers
40% max incline for climbing, hiking trails, and a variety of muscle recruitment
Bluetooth headphone connectivity, you can sync your Bluetooth headphones with a console
Cons
Low weight capacity
Not foldable. Make sure there is enough room.
It is a heavy treadmill, so moving takes two people
Over nine mph (6:40 mile), the deck might become unsteady, especially for large users
NOTE: NordicTrack lowered its weight capacity to ensure this home treadmill could safely reach those high inclines. As long as you aren't a larger individual, you should have no problem using this treadmill to crush your fitness goals.
Features
+40% Incline to -6% Decline: The sharpest elevation range offered on a treadmill for residential use. The engine operates the Smart-Response drive system.
32″ Smart HD Touchscreen Upgraded: The newest model's improved HD graphics performance includes a quicker processor. Run worldwide as the added processor cooling improves the graphics performance. From every location in the room, the 32″ Smart HD Touchscreen is simple to see. There is treadmill training paired with plyometric or strength training off the treadmill in many iFit classes.
Reflexive Cushioning: This feature reduces foot fatigue and enhances comfort are the goals of the built-in "Reflex" feature. The deck's composite design and strategically placed springs give it extra flexibility to deflect heel impact while retaining stability when you push off with your toes.
iFit Family membership for one month: Worldwide outdoor routes and studio-based classes are available on iFit. iFit Family membership now offers LIVE workouts, allowing you to participate in on-demand workouts alongside the trainer and other users.
Running Platform, 22 x 65″: The running platform is 5″ longer than comparable models, which typically have a maximum length of 60″ and is 22″ broad by 65″ long. It gives users of all sizes plenty of room to run, walk, or hike.
Levels Maximum Speed from 0 to 12 mph: The QuickTouch control buttons allow you to digitally adjust the metric speed (from 1mph to 2mph).
The sled-push feature has a push bar and sled grips. To activate it, lower the speed to 1 mph using the horizontal push bar at the console's base.
Motor: 4.25 CHP: The continuous horsepower motor can manage several users and has a rigorous training plan because it is self-cooling and regulated. The machine's silent motor is advantageous at the back base, making the steep inclination possible.
Strong Steel Frame: The x32i is a giant, bulky treadmill that weighs more than 440 pounds. It has a sturdy, balanced sensation because it rests firmly on the floor.
Bluetooth Headphone Connectivity: Simply pair your Bluetooth headphones, and you can concentrate solely on your iFIT trainer and workout music.
Price
On the Nordictrack site, the Commercial X32i costs $3,999 with Free Standard Delivery.
It may look expensive for those on a budget, but the x32i could be a game-changing investment!
Warranty
The following home warranty from NordicTrack backs the Commercial X32i:
Ten year period
A two-year parts
One year for labor
Almost all of NordicTrack's products now come with the same warranty.
Dimensions
Item Length: 76.5 in.
Width of the item: 40 inches
Item Height: 73 inches
Item Weight: 459 pounds
Weight Capacity: 300 pounds
NOTE: Trainer-Led Workouts Automatic Trainer Control enables your iFIT Trainer to instantly change your speed, incline, and resistance for a completely hands-free experience.
NordicTrack Commercial X32i: A Comprehensive Analysis
The following are some of my analyses of the Commercial X32i Incline Treadmill:
Functionality
The NordicTrack x32i is incredibly comfortable for running or walking. It is not one of those incline trainers that makes using it seem like a chore.
A comfortable ride is made possible with the smooth track, Reflex padding, and colossal touchscreen. Using this treadmill, I don't feel isolated and alone in the pitch-black gym.
With a wide variety of outside routes, excellent videography, a bright screen quality, and a highly comfortable deck surface, iFit brings the world to your door.
Best for Distance Runners
The x32i is an appealing choice if you're a long-distance runner or marathoner seeking high-quality fitness equipment at your home gym.
The excellent 4.25HP engine may support long distances, and the roomy deck cushioning helps to absorb impact stress so you can run for extended periods without experiencing discomfort.
The significant 65″ long by 22″ broad deck also offers plenty of room for anyone who needs longer strides. On the front end, the absence of a motor cover frees up additional space.
A supporting deck structure allows for a mid-foot strike running gait cushioned but still results in a firm toe-off.
Bounces at Fast Speeds
Due to the significant cushioning mechanism in the deck, I have discovered that the X32i does bounce slightly at maximum speed for individuals who enjoy sprinting.
The bounciness can be an issue if you frequently run faster than nine mph (6:40 min/mile).
Comfortability
The NordicTrack x32i is also an attractive alternative for walkers because of the cushioned deck's incredible 40% inclination and -6% decline.
You can easily up the challenge of your treadmill workouts to burn more calories while remaining low impact by simply inclining the deck.
Working up an elevation helps build your posterior leg muscles and the anterior quadriceps, which are sometimes overdeveloped in runners and walkers. That 40% slope is pretty severe.
I also appreciate the track's increased width and length, which give you plenty of room whether you're taking a stroll or power walking through San Francisco's hills.
Excellent Hiking Characteristics
For the first 30 days, iFit is free, allowing you to use the whole content library before paying for a subscription.
The outdoor hiking routes on the iFit Family membership are one of my favorite features. You can trek in New Zealand's mountains or take a short trail stroll in Zion National Park.
Thanks to the programmed inclination and descent, the deck will adapt beneath you as you go along, making the hikes feel natural.
Hiking increases calorie burn since it is more complex and utilizes muscles in your rear leg. It is one of the x32i's best features, in my opinion.
Cross-Training at Home
You're welcome to revoke your gym membership! You can view the x32i screen from everywhere in the room due to its size.
Therefore, the cross-training workouts in iFit are simple to view and follow.
Boot camp sessions, cardio/strength combo programs, yoga, stretching, and even cross-training options are all available on iFit.
On the X32i, you may work out your entire body in a balanced manner.
The sled impulse option adds the delightful challenge of pushing the belt with your feet while holding on to the horizontal or vertical sled bars.
The x32i is a fantastic all-purpose training tool because it offers a variety of classes and training possibilities.
Strengthened Cardiovascular System
The NordicTrack x32i will support you in developing and strengthening your cardiovascular system, whether you prefer walking, hiking, jogging, or running.
More oxygen is needed by working muscles, and the more work they do, the more oxygen they need.
As you push yourself on the x32i, your breathing and heart rate will quicken to keep up with the increased oxygen demand.
The heart is a muscle. Therefore regular workouts will help it grow more robust and more effective.
If you frequently use the x32i, you'll find it simpler to push a bulky shopping cart through a parking lot or climb stairs.
Your ability to perform daily tasks significantly improves as your cardiovascular system matures. Additionally, cardio workouts help to increase lung capacity and circulation.
Strengthens and Tones Your Leg Muscles
The powerful muscles in your legs are called upon each time you stand up on the x32i to lift, move, and advance your body.
With frequent use, the NordicTrack x32i will assist in developing and toning your main muscles, even your skeletal muscle.
Utilizing the incline and decline option also gives variety to the muscles being worked, allowing you to build well-balanced leg muscles and strengthen the glutes.
Excellent for Weight Loss
You can lose weight by utilizing the x32i's numerous capabilities. Weight loss will result from cardiovascular training, muscle development, and higher daily calorie burn.
I advise combining walking or jogging with the iFit strength training options to reach your target weight.
Start a HIIT routine, finish it with some stretching, or run steadily for one mile for some aerobic conditioning, then push a sled for one minute to raise your heart rate.
You can accomplish your New Year's resolution to lose weight with the help of the many training alternatives and sizable iFit library. All you have to do is persevere!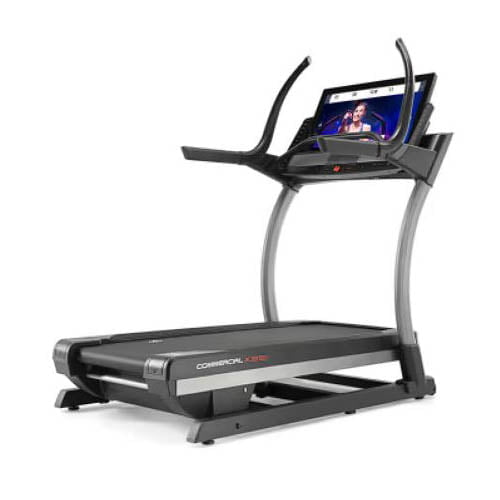 NordicTrack Commercial X32i
Review of NordicTrack X32i Features
Let's look at some of the X32i's features and how they work while you're walking on the treadmill.
Range of Incline and Decline
The NordicTrack x32i has a 40% inclination and a -6% drop. The top of the deck pivots up to 34″ inches off the ground, and the 40% inclination is incredibly severe.
The deck rises 15″ off the ground when the grade is flat. You must have enough overhead clearance to use this machine's steep incline.
Incline Training Advantages:
A NordicTrack study found that a 200-lb person walking at two mph for 20 minutes at a -6% inclination burned 63 calories, 157 calories at a 10% incline, 321 calories at a 30% incline, and 381 calories at a 40% slope. Walking or jogging uphill increases calorie expenditure. It means that even if you maintain your current pace, simply raising the inclination can result in a five-fold increase in calorie expenditure in the same length of time.
Incline training activates the glutes and hamstrings due to the excessive forward motion of the legs; runners, cyclists, and triathletes all experience quad dominance problems. To combat this persistent quad activation, antagonist muscles in the glutes and hamstrings must be similarly robust. Utilizing an incline helps balance the anterior-to-posterior tension ratio by engaging and strengthening the glutes and hamstrings.
Numerous training combinations are available, thanks to a variable incline and decline range. Pyramid workouts, inverted speed sets, a superset of speed and inclination, or simply running some rolling hills are all options. Following the iFit exercises makes incline variations simply because the routines of the trainers automatically modify the slope, so you don't have to.
Deck Cushioning
Reflex Cushioning: Four 3″ springs under the composite deck produce this. The composite deck material stabilizes the gait by providing a solid toe push-off with each step.
It allows you to push the pace while sparing wear and tear on your joints, and the dual AutoBreeze workout fans keep you cool even during the toughest workouts.
The Reflex mechanism delivers the necessary bouncing while preserving energy between phases.
Extended Running Surface
The deck is 65″ long and 22″ broad. It is the most prominent deck on a treadmill for household use.
The 65″ length and 22″ breadth are ideal for athletic use; some are longer but narrower, and others may be wider but shorter.
Sled Push Feature
Sled Push bars are a feature of Nordictrack that simulates pushing a sled down an indoor track.
High-level athletes frequently perform this exercise to increase their heart rate as quickly as possible.
Turn the speed to 1 mph and ensure no gradient before selecting the sled push option.
Lean onto the treadmill, grab the vertical or horizontal handles, and move your feet along the belt.
If you want to make any workout experience more difficult, choose this sled push option because you must lean in with your core and push with your arms, boosting your upper body.
TIP: Avoid attempting to operate the treadmill in manual mode while not in use; doing so could harm the motor and walking platform.
You should be aware that Nordictrack has turned off the upright handlebars' heart-rate sensors.
The sensors are still there, but a black coating has been applied to prevent them from sending your heart rate data to the touchscreen.
iFit is shifting away from sensors on the handles and prioritizing heart rate data from your chest strap.
Chest strap heart rate sensors are far more accurate than handgrip ones.
Subscription to iFit Workouts: Free First Month
Nordictrack's exercise program is called iFit. Workouts led by elite iFit personal trainers from around the world are regularly added to our database of classes.
You can make up to 5 adult profiles with the iFIT family membership that function flawlessly on multiple machines.
Be aware that running iFit programs requires WiFi. It has faster Wi-Fi connectivity.
When you first set up your treadmill, the screen will ask you to log in and join your network.
After that, it will instantly reconnect whenever you switch on the machine. You cannot use iFit if there is no WiFi.
Various training options: Workouts are divided into types, trainers, and locations. Off-tread options, long-distance training, HIIT running, walking routes, and hiking trails are all covered in the classes.
Studio-based classes: One of the more well-liked choices is a personal trainer-led session recorded in a studio. Trainers of both sexes are showcased, offering various instructional and inspirational approaches.
Outdoor Routes: You can see the French countryside while taking an outdoor course, go through Sedona, Arizona's red mountains, cross the Tetons, and even climb a somewhat treacherous single-track trail in Alaska. You and your iFit personal trainer can run, hike, walk, or backpack together in each session.
Lots of opportunities for walking: Not just runners can take the classes. Everywhere in the world, there are walking pathways. A recent one I participated in had us follow an iFit trainer who pointed out historical details, architectural details, and other information as we went along.
Cross-Training, Strength Training, and Yoga: These are a few more difficult regimens that include both treadmill and non-treadmill exercises. You can sign up for a session that incorporates some interval running with weight training off the treadmill, or you can pick a stretching routine that requires you to work some muscles before stretching them out.
iFit Can Easily Replace your current Gym Membership: Your current gym membership might be easily replaced by iFit thanks to its extensive library of programs and content, which is updated almost daily. There is always somewhere new to go, thanks to the built-in adaptive HR control, classes, challenges, series, and LIVE workouts.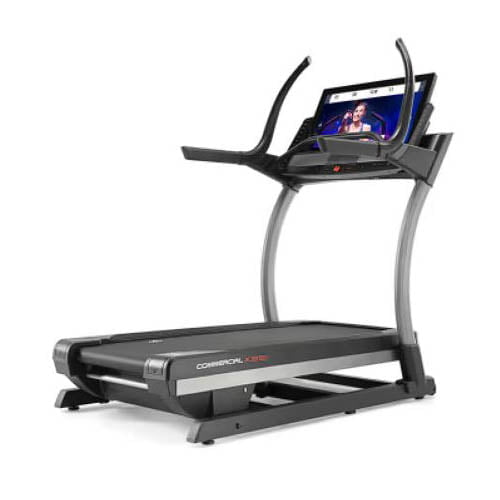 NordicTrack Commercial X32i
NordicTrack X32i Incline Trainer Construction
As I examine the NordicTrack X32i Incline Treadmill's construction, the following is noted:
Frame
The x32i frame is made of solid and composite beams that feel structurally sound and powder-coated steel beams.
Three cross beams and two steel side beams make up the frame (one at the top, two in the center).
A joist at the bottom of the walking platform secures it to the cross beams, allowing the top end to pivot upward when inclined while the base is kept steady.
Four 3″ steel springs, two at the bottom and two in the middle of the deck, are just underneath the side rails.
These stabilize the deck while allowing for necessary movement by spanning the space between the platform's base and the top of the side beams.
Construction of Decks
Treadmill Platform: A huge hood or motor cover is not necessary at the top of the belt because the motor is located at the platform's base. The available track is widened by several inches as a result.
Belt: The belt is sturdy and lightly textured, so it won't become slick if you sweat it while working out. The strap is moved along by rollers inside the walking platform. The belt of the x32i rolls evenly beneath your feet as you run, thanks to its stylish and robust design.
Large 2.5″ Rollers: Two rollers surround the running platform's underside and advance the belt. The area available to hold and move the belt increases with the size of the roller. The large, well-balanced 2.5″ rollers produce a smooth feel regardless of the slope.
Motor
The x32i has a powerful motor yet silent 4.25 CHP. The engine, securely tucked under the base of the deck, controls slope and speed.
The powerful motor utilizes the Smart-Response drive system. The deck must be able to tilt upward while still moving quickly.
You have significantly more deck space than on comparable incline trainers since the motor is located at the base of the deck rather than the top.
No matter the workout or training regimen, the x32i has been consistent and cushioned throughout my extensive running experience.
Over nine mph (6:40 min/mile), it can feel a little bumpy, but I don't often run at this speed.
However, I advise looking at the Nordictrack 2950 for runners who regularly run at or faster than nine mph.
It is more stable at high rates since it has the same motor but a different cushioning mechanism.
The x32i is the most comfortable treadmill I have tried in our studio, except for this. You'll discover that it's ideal for most users when walking, jogging, running, or any other activity.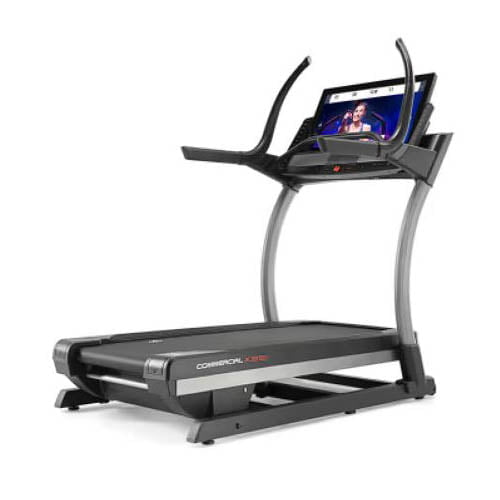 NordicTrack Commercial X32i
Upgraded 32″ HD Console
In 2021, the console underwent a minor upgrade. Other than getting rid of the handlebar sensors, nothing significant has changed.
Screen
The 32″ Smart HD touchscreen softly pivots up and down so you can position it to fit your visual field.
You can notice that the visuals and processor speed have both been improved.
The display is as clear as one on a computer or HD TV. You'll lose yourself in the expansive HD graphics performance and stunning iFit videos.
It is also supported by Android (operating system)!
Please note that this screen does not allow you to access the internet or stream content from a mobile app like Netflix or Hulu.
It is only intended to display the iFit app and will launch iFit whenever the x32i is turned on.
Console Design
The console looks tidy and orderly. Accessing the incline adjustments on the left and the live speed controls on the right is simple. I like that each speed has its button.
The one thing about this console I don't like is where the Start/Stop, manual controls, and fan/volume buttons are located: below the screen, under the horizontal bar.
These buttons feel relatively low because the screen is so big. The flat runs in front of the console, making them difficult to view.
You are further elevated above the control panel when you incline the deck since the console remains in the exact location. It's a minor complaint, but it is something I did observe.
Fans and Other Accessories
Just below the screen, upgraded dual Autobreeze workout fans are tucked away. The proper quantity of airflow may be found using the four power settings.
When working hard indoors, fans come in quite handy. They eliminate the need for additional standing fans or thermostat adjustments.
During my run, the built-in dual fans provided enough wind. The fans' sound output wasn't bothersome. I didn't need to raise the speaker volume to hear the training, even at top speed.
Console Storage
At the back of the console, two large pockets are located just behind the screen. You need to reach behind the screen to get your water bottle, but it's not too annoying.
Concentrating on the program without being sidetracked by a vibrating water bottle while exercising is enjoyable.
The console's deep and wide pockets can accommodate any bottle, along with your keys, wallet, phone, and other items.
A lip that can hold a phone or tablet is left just below the screen, where the screen pivots up and down. You don't need a separate tablet holder even if there isn't one provided.
Setting a gadget on the ledge in front of the screen is simple.
Storing and Moving the X32i
The x32i cannot be folded. However, it has front wheels, so you may move it gently if necessary.
You can lift it by the back end to activate the front of the deck's wheels after slightly incising it. It is advised that one or two influential individuals move this machine.
It is not portable and is difficult to roll.
I recommend setting up the x32i where you intend to use it and avoiding moving it if possible because the machine's weight could cause your carpet to buckle as you roll it.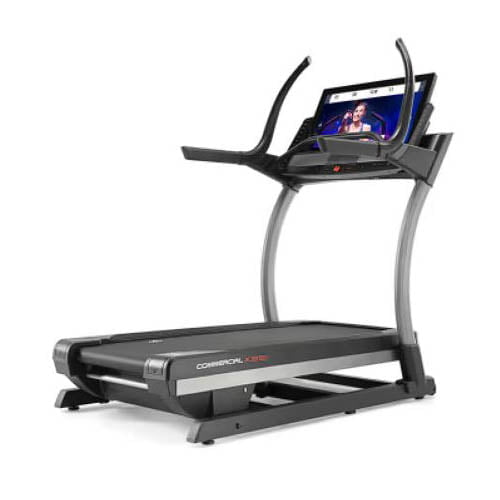 NordicTrack Commercial X32i
NordicTrack X32i's General Effectiveness
The x32i is the market's top treadmill compared to other consumer models.
The extras combine with the engaging technology and the flexible, cushioned running surface to create a seamless, comfortable workout.
Noise Level
When moving quickly: I started running at three mph, then increased to 6 mph, and then eight mph, all for one minute each. I turned off the treadmill's other noise sources (no speakers, no fan) and listened for the difference in noise produced by different running speeds. The added cushioning in the deck likely lowers impact volume, which accounts for why the normal "thudding" sound from foot impact is audibly quieter on the Incline Treadmills than on the Commercial Lines. Even though foot cadence increases with pace, I didn't hear a noticeable difference in overall loudness, even when dashing.
Running with the fan on high: Using the fan makes more noise, but as it's hidden inside the console, those seated next to me couldn't tell if it was low or high. The only motor noise they heard was when the fan was running.
Running speakers at maximum volume: The digitally amplified speakers produce sound consistent with the volume chosen. These speakers sound clear and attractive. However, it will be visible to those around you if you work out hard, have the fan on, and turn up the audio. It isn't a drawback because a bad speaker would ruin your experience in general. Just prepare for it; these speakers are comparable to any TV speaker in a room.
Impact noise variations with incline and decline: The difference between the impact noise produced at an incline and a descent is due to the long distance the feet must travel when the slope is low as opposed to when the platform is elevated. The treadmill limits your speed as a safety precaution when the inclination is raised over 15.5% so you can't damage yourself or the engine.
Numerous Training Choices
The NordicTrack x32i has a wide range of training options, which is impressive.
You can increase your aerobic fitness with the different jogging, walking, and hiking choices available on iFit.
Additionally, there are several possibilities for stretching, yoga, and strength training sessions.
The sled push element makes any workout more challenging, and the incline/decline options offer the necessary variability.
Using iFit, you can go for walks, hikes, jogs, runs, strength training sessions, or even plyometric exercises.
Smooth Automation
The iFit app and the treadmill are seamlessly synchronized. I didn't notice any delay between pressing a button and digitally adjust your treadmill.
Whether you are adjusting speed settings, inclining or descending the deck, turning on or off the fans or speakers, or even selecting an iFit program, the integration of the x32i is superb.
Suitable for All Fitness Levels
To use or enjoy the NordicTrack x32i, you don't have to be a fit athlete. All ages and skill levels of users can successfully operate this device.
The programs are interesting, and the simple smartphone interface and the treadmill feel comfy. It is simple to get on and off.
Anyone wishing to improve joint mobility following a hip replacement, from professional marathon runners to walkers, should consider the x32i.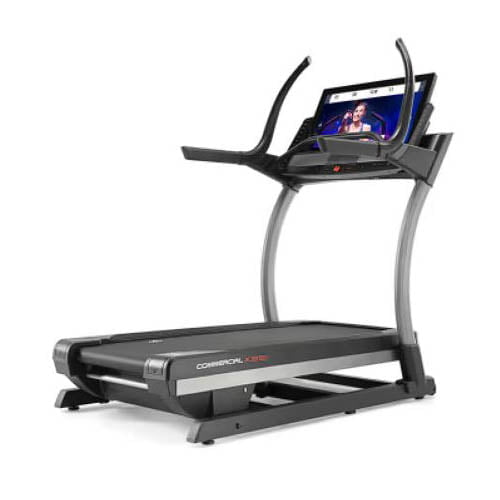 NordicTrack Commercial X32i
What's Different This Year
Manufacturers update a few models every year. Common advancements include bigger screens, more powerful motors, and improved technology.
The manufacturer's website occasionally lists two treadmills with the same name, confusing enough for us treadmill specialists, let alone first-time buyers.
A summary of the new features of the most recent X32i version is provided below.
New as of 2022
The incline/decline characteristics can be remotely adjusted by iFit trainers using.
AUTOADJUST™: Live Control Access at any time during a workout.
Google Maps is a useful tool for planning precise journeys worldwide.
Frequently Asked Questions Answered by Users
Here are some commonly asked questions about the NordicTrack Commercial x32i Treadmill to stop your search.
What Is the Difference Between Commercial and T Series Nordictrack Treadmills?
The commercial treadmill series from NordicTrack will go thousands of miles with you.
T Series treadmills at NordicTrack are made with durable commercial-grade steel and feature the company's renowned high-end workout technologies at competitive prices.
Can You Watch Netflix on NordicTrack X32i?
Please note that this screen does not allow you to access the internet or stream content from other apps like Netflix or Hulu.
It is only intended to display the iFit app and will launch iFit whenever the x32i is turned on.
Does the Commercial X32i Fold?
The Commercial X32i's main drawback is that it cannot be folded up, which will always occupy a sizable amount of floor space.
Can I Use NordicTrack Treadmill Without Ifit?
You can always use the manual mode on your treadmill. The Automatic Trainer Control requires the iFIT subscription, but it is not necessary to buy one.
Where Can I Locate iFit Trainers?
Go to the Home page, choose your equipment type from the top menu bar, and touch BROWSE. Click the oblong SEARCH button at the bottom of your screen's central area.
Enter a workout title, trainer, or workout type in the search bar at the top of the screen.
Who Is the Most Well-Liked iFit Trainer?
When I participated in the 4-week Getting Started Programme in the studio, John Peel was one of the most well-liked instructors in the iFIT community.
Does iFit Membership Renew on Its Own?
Your iFIT auto-renews the day of your subsequent payment. You will get an email reminder 30 days before the renewal for yearly auto-renewals.
Can the X32i Be Installed on the Second Level of a House?
The biggest challenge would be carrying it up the stairs because it weighs 450 lbs when assembled. Yes, it can function once there.
How Is the Customer Service at NordicTrack?
Worldwide shipping delays have occurred, and customer support has been prevented from performing their regular duties due to COVID-19 quarantine regulations.
NordicTrack Commercial X32i Treadmill Bottom Line Review
The NordicTrack x32i is the industry's best treadmill overall. You're getting the most powerful technology and design on this treadmill.
The NordicTrack Commercial X32i is a terrific option for people who want to get the most out of their exercise routine but require a little extra motivation to get started.
It's a top-notch product with a big screen, on-demand workouts, and general usability.
Considering everything, I believe the X32i is a remarkable model with much to offer anyone willing to commit fully to at-home fitness exercises.
If you're one of those competitive types that enjoy moving up the rankings, there is even a leaderboard! Those who prefer to stroll rather than run should consider this as well.