Bowflex Max Trainer M6
Specifications
Max 14-minute interval, calorie burn, fat burn, stairs, manual
Unique burn rate display
300 lb weight capacity
A fraction of the size of most ellipticals and treadmills
Space-saving machine easily rolls into nearly any corner of your home
Full-body, low-impact elliptical motion with the calorie-burning power of a stepper
Multi-grip, dynamic handles
Sports performance pedals
One of the best things I like about the Bowflex Max Trainer M6 is its EXCELLENT VALUE.
The Bowflex Max Trainers M6 is a cross between a stair stepper and an elliptical, providing both a low-impact and a high-intensity full-body workout.
The Max Trainer has 16 levels of workout resistance, which is sufficient for most exercisers, including those with advanced fitness levels and those who want high-intensity workouts.
As Bowflex fans have long known, the JRNY Fitness Platform provides a lot of bang for the subscription price of $19.99 per month or $149 per year.
Real-time coaching automates the role of the trainer by motivating users through plateaus using metrics such as time, interval, RPM, and resistance level.
Bowflex Max Trainer M6 Console
Max 14-minute interval, calorie burn, fat burn, stairs, manual
Unique burn rate display
300 lb weight capacity
Paired with Bowflex JRNY App
A fraction of the size of most ellipticals and treadmills
Space-saving machine easily rolls into nearly any corner of your home
Full-body, low-impact elliptical motion with the calorie-burning power of a stepper
Multi-grip, dynamic handles
Sports performance pedals
As a result, a maximum of four recommended workouts per day are generated based on preferences.
Also, what I like about the JRNY subscription is that it takes you to a different virtual location each time you log in, which enhances your determination for a full-body workout.
In addition to more than 50 virtual locations to explore, the JRNY app integrates curated playlists from Netflix, Hulu, Prime Video, and Disney+ into the entertainment options.
The M6 provides a low-impact, high-intensity workout, making it suitable for a wide range of users to fit in their training workout.
Whether you have had previous joint problems or injuries or want to improve your overall health, the M6 can help you achieve your goals without causing any harm.
However, some people believe that elliptical trainers aren't intense enough for stronger athletes.
With that, the Bowflex Max M6's artificial intelligence platform has been improved to push users to reach their maximum capacity.
In terms of overall performance, what I like about this Bowflex Max Trainer M6 is its promise of a smooth workout in 14 minutes and unique burn rate display.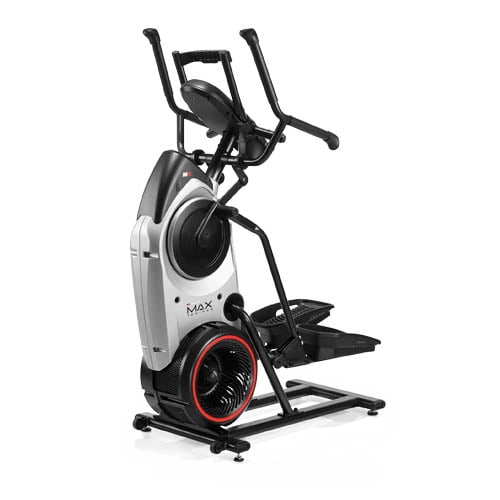 Pros
Full body, HIIT-style workouts, 5 standard workout programs
16 magnetic resistance levels
Compact frame and straightforward assembly
Burn Rate meter
JRNY-compatible, Bluetooth-compatible with apps, and Bluetooth heart rate monitoring
USB charging port
Cons
Short warranty
No speakers
Design
The Bowflex Max Trainer M6's compact size is the first thing I've noticed! It's only 46″ long and 26″ wide, so it shouldn't take up too much room.
If it does get in the way, use the integrated rollers to push it into a corner when you're done working out.
TAKE NOTE: The ceiling in the room where you use the Max Trainer M6 must be 15 inches higher than your height.
The Bowflex Max Trainer M6 is designed for comfort and convenience, with wide and grippy pedals for a secure footing while working out.
Also, it has integrated contact grips that allow you to place your hands in various positions.
Despite being a sturdy machine, the Max Trainer M6 can carry people with a weight of up to 300 pounds, which is a plus if you ask me!
Another consideration is that you must first assemble the Bowflex Max Trainer M6 machine before you can begin working out.
But don't let that put you off because it's not a difficult process that should take no more than 30 minutes, unlike most cardio machines.
Price
This machine costs around $1,499, putting it in the middle of the elliptical price range of $300-$2500.
You'll have to pay an additional $169 for in-home assembly, and if you want to use the JRNY app, you'll have to pay an additional $19/month after your year-long free trial ends.
With my M6, I assembled it myself by following the instructions, and it only took 30 minutes. It is indeed pretty quick and easy.
Warranty
Bowflex Max Trainer M6
The frame and parts are guaranteed for two years, and labor is guaranteed for 90 days.
90 days is a short time, especially given that the mobile app is a paid subscription and users will be actively using their Max M6 on a regular basis.
This is one of the things I did not appreciate with the M6.
Frame
Two stabilizers and two center beams support the M6 Trainer frame.
Four levelers are located beneath the front and rear stabilizers and can be individually adjusted to ensure that your trainer sits firmly on the floor without shifting or rocking.
The machine also has two wheels on the front that allow you to tilt and roll it as needed. The pedal legs are connected to the frame assembly and move in tandem with the handlebars.
The right and left pedals are linked to the frame assembly, so when one moves, the other follows.
The elevated rim of the wide, ergonomic foot pedals prevents your shoes from sliding forward or shifting side to side while stepping.
The M6 also has a textured surface, which I found to provide greater stability and traction. The pedals and handlebars move in tandem, resulting in a very coordinated feel while in use.
Bowflex Max Trainer
M6 Fan Feature
KEEP IN MIND: There is some noise when using the M6 Trainer. The movement of the pedals and handlebars produces a "whooshing" sound that increases with cadence. It wasn't much of a bother if you ask us, though.
This elliptical/stair stepper isn't as quiet as others. However, the frame is mostly stable, with only minor rocking.
The multi-position handlebars allow users to hold lightly and concentrate primarily on the lower body — or to help push and pull vigorously, activating more of the upper body muscles.
The deltoids, lats, biceps, and triceps are targeted by pressing and pulling on the moving handlebars.
You can also adjust the pedal motion if you just want to walk and focus on your lower body muscles! I really enjoyed this feature of the M6 because it gave me ease and comfort to the workout I was looking for.
Pedals
The foot pedals are extra-wide and can accommodate any shoe size. A slight ledge around the perimeter keeps your foot on the pedal as you exert force and your weight.
As I said, the surface is textured with a compact footprint to prevent your shoes from slipping.
Even though the motion is that of a stepper, the supportive pedal motion makes it feel more like an elliptical!
I found that the oversized pedal easily glides up and down the track.
The M6 Trainer's fluid motion ensures that the pedal supports your foot throughout the movement, even when you're working hard, lifting, and pressing down with each step.
This lessens any impact or discomfort that may occur while allowing you to burn more calories than usual.
Bowflex Max Trainer
M6 Pedals Feature
The foot pedals are extra-wide and can accommodate any shoe size. A slight ledge around the perimeter keeps your foot on the pedal as you exert force and your weight.
Handles
The M6 Trainer features three handles.
One pair of fixed handles is attached to the console and does not move. The stationary handles have EKG grips.
Personally, I want a challenging workout, so I use the stationary handles and then concentrate on working my quads and glutes and push against heavy resistance.
There are also two moving handles with different extensions to help you find the right grip.
One set of handlebar extensions angles vertically in front of the console, allowing for a firm grip.
These have a symmetrical grip that allows me to keep my wrists, elbows, and shoulders in alignment while using them.
The upward grips put my shoulders, chest, and lats to the test.
Another angle of the moving handlebars points downward toward the user's ribs.
These are better for targeting the triceps while pressing and the biceps while pulling. For security and comfort, the handlebars have plastic caps at the bottom.
As I previously stated, the handles work in tandem with the pedals to streamline the motion between hands and feet.
Main Features
The following features are included with the Max Trainer M6:
Burn Rate Display: The console on this trainer is fairly simple, consisting of a small backlit built-in screen, but the burn rate monitor at the top is quite cool. It's similar to a speedometer, but instead of displaying your speed, it displays the calories burned in real-time to track your workout metrics. This feature of the Bowflex Max Trainer M6 acts as a motivator for your physical fitness journey!
Bluetooth Display: The Bowflex Max Trainer M6 has a Bluetooth feature that allows you to track your progress with Bowflex's JRNY app or other popular fitness apps.
Heart Rate Monitoring: You can also connect a wireless heart rate monitor to Bluetooth or use a smartphone USB port for more accurate heart rate readings to track how many calories are burned during workouts.
USB Charging Port: This feature allows you to plug in your Android devices or Apple devices and charge them while working out. A simple Bowflex Max Trainer M6 that gets a lot of praise in brand reviews!
Compatible with JRNY: The app used in Bowflex is the Bowflex JRNY app. It's a paid subscription service ($19.99/month) that allows you to access unlimited instructor-led workouts, metric tracking, calorie expenditure, scenic routes, and other goodies. Like most apps these days, it includes a variety of workouts, not just those for the M6. When using the M6, you'd have to use your phone or tablet to access the JRNY app.
2 User Profiles: The M6 allows you to save two user profiles for interval training with a different fitness level. This is what we like best because you will only pay the same amount even though the subscription has multiple users.
Magnetic Media Rack: A large magnetic media rack is located at the top of the console. It's magnetic, so your tablet computer monitor or phone won't slide around during your workout while tracking the calories burned.
Multigrip Handles: The handles are large and offer various grip options, allowing you to tailor your workout and target different upper body muscle groups in your training.
Water Bottle Holder: A large water bottle holder is located in the front for storing your preferred training drink.
Dimensions
The Bowflex Max Trainer M6 is a compact piece of exercise equipment. It has a footprint of 46″ x 26″ x 64.2″ (L x W x H) and weighs 148 lbs.
The machine has a weight capacity of 300 lbs. and can be set up on any solid platform.
You will be required to assemble the machine after purchasing it.
Despite its small size, I discovered that assembling this elliptical machine is doable alone, but it definitely helps if you have an extra pair of hands.
Machine Intensity
The Bowflex Max Trainer M6 has 16 different resistance levels, which I found to be a good sweet spot! As the strength of my arms and legs improves, each level becomes more difficult!
To do this, change the resistance level with the buttons beneath the console if you want a bit more of a challenge.
Unlike other cardio machines, the M6's foot pedals are more upright, allowing you to perform a step-climbing motion rather than a gliding maneuver, thus engaging your cardio muscles.
You'll be working on your legs, quads, hamstrings, and calves at the same time.
Main Benefits of the Bowflex Max Trainer M6
There are several benefits to the Bowflex Max Trainer M6, and these are:
Bowflex Max Trainer
M6 Tablet Console
High-tech features: The M6 can store multiple profiles, allowing multiple people to track their progress over time, in addition to pairing with the JRNY app.
The burn rate feature, magnetic rack for your smartphone or tablet, and Bluetooth capabilities are also appealing.
Console with magnetic media rack. (tablet not included)
Compact: This elliptical machine is compact enough to fit in almost any home or office gym. You don't need multiple pieces of fitness equipment to get a complete workout because it allows you to train your lower and upper bodies simultaneously.
Intensity: Because most ellipticals aren't particularly challenging, it can be difficult for experienced users to increase the intensity. The M6 is difficult for users of all skill levels, but if you're just starting out, you can keep the resistance low and ease your way in. Many users say the M6's vertical movement, which is similar to that of a stair climber, is a refreshing challenge, as many ellipticals have a more horizontal path.
Main Drawbacks of the Bowflex Max Trainer M6
Some users of the Bowflex Max Trainer M6 encountered some difficulties, and these are:
Inaccurate heart rate: While the handlebars allow you to monitor your heart rate in real-time with the contact grips, many users report that the readings are inaccurate. To be fair, many contact grip heart rate sensors have this issue, not just the Bowflex machines. Users can avoid this by wearing a Bluetooth heart rate monitor instead.
Subscription: While the JRNY app is not required to use the machine, it does improve the experience for a monthly fee.
Assembly: While not impossible, some users report that the initial set-up can take up to 2-3 hours, depending on your tool experience and whether or not you have assistance. Be prepared, and don't expect to be able to use this right away. While it took us 30 minutes to assemble it ourselves, it can take much longer for others.
Frequently Asked Questions Answered by Users
We know that you have a lot of questions regarding this equipment, so we provided answers for your convenience!
Can You Use the Bowflex Max Trainer M6 Without a Subscription?
Free onboard programs do not require a subscription. However, some JRNY features may not be available, such as heart rate monitors and training availability.
Is the Bowflex M6 Hard on the Knees?
NO. If you want a low-impact workout that is still intense, the Bowflex Max Trainer might be a good fit for you. The climbing action of the Max Trainer provides a more vigorous workout than a standard elliptical while remaining gentle on your knees.
How Much Does the Bowflex Max Trainer M6 Weigh?
When fully assembled, it weighs 148 pounds (67 kg) and can support a maximum user weight of 300 pounds (136 kg).
Is the Bowflex Max Trainer M6 Worth It?
The Bowflex M6 provides excellent value. Because of the wide range of resistance levels, it is a piece of gym equipment that will challenge all fitness levels for years.
It's small and compact — if a machine can be called that — and will fit into most home gyms.
What Is the Step Height or the Range of Step Heights?
The step of height usually goes around 12- 13 inches. This feature allows it to be accessible to everyone!
Will the M6 Function if There Is No Electricity and WiFi Service?
For the machine to operate, you have to plug the machine into a wall. But, the M6 does NOT need WiFi connectivity to operate.
Bowflex Max Trainer M6 Bottom Line Review
This capable elliptical hybrid machine is not a bad choice for those looking for a low-impact workout to help burn calories and target different skeletal muscle groups.
The Max Trainers are very compact (about half the length of a typical elliptical) and lightweight, making them easy to transport.
The M6 offers a good variety of workouts as well as 16 resistance levels.
Best of all, with the JRNY app, you can automatically sync all of your workouts to keep you motivated to reach your fitness goals.
I strongly recommend the M6 as an excellent affordable option for those looking to spend a decent amount of money on a fitness machine.
Bowflex frequently offers free gifts with a purchase, too, which is a nice incentive!