Bowflex MT16
Over the years, Bowflex has been innovating machines that help its users achieve gym-quality results in the comfort of their homes.
Bowflex offers a wide range of exercise equipment, like bikes for indoor cycling, dumbbells, and other cardio machines that are great buys for your home workout space.
In addition to their product lineup, manufacturers recently released the Max Total 16 in late 2021. It's known to be one of the most advanced equipment to exercise with at home.
It's built with an interactive, high-definition console that users can utilize to access adaptive workouts and entertainment apps through the JRNY platform.
Many people describe the Max Total as a hybrid stair stepper and elliptical machine (I can vouch that this is true). It has textured pedals, hand grips, and handlebars built vertically to save space.
It also has a water bottle holder, a built-in media shelf to hold your mobile phone, and a Bluetooth speaker that can connect with smart devices, like a Smart TV or smartphone.
Overall, the Bowflex Max Total 16 is a great home workout equipment. It allows for afull-body workout that engages your core and upper body muscles!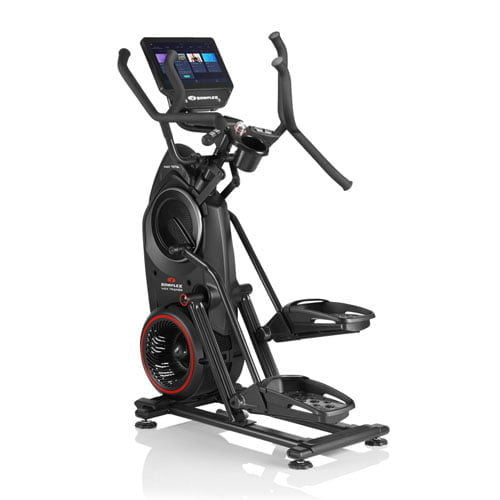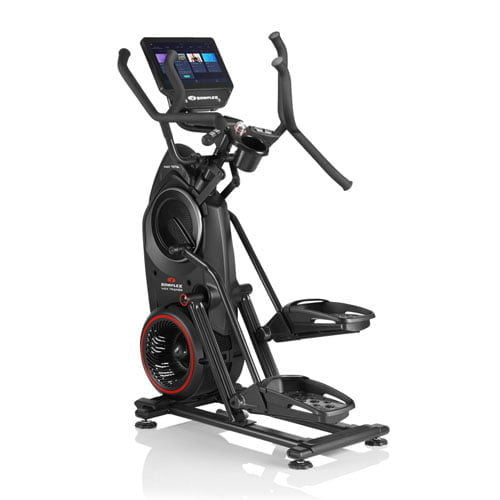 Pros
16″ interactive console, HD touchscreen display
300 lbs. weight capacity
Oversized textured pedals for better feet placement
Grips and handles are designed to engage different upper body muscles
Available in 20 degrees of resistance to cater to users with different fitness levels
Comes with JRNY app access for fitness assessment, all-in-one-tracking, adaptive workouts, and virtual coaching
Offers full-body, low-impact, and HIIT workouts
Cons
JRNY membership required for an optimum workout experience
Wi-fi connection required to connect with the JRNY app
Resistance knob doesn't display resistance levels
Main Features
Dual rail design – the dual rail design allows for maximum stability for heavy and intense workouts. It also allows users to experience a smooth glide while doing quick stepping motions.
Bluetooth heart rate armband and heart rate grips – this feature enables advanced heart rate training and tracking. It also keeps users within their primary heart rate zone. 
6-grip handlebars – having 6-grip handlebars helps users get the perfect upper body position to engage different upper body muscles and their core during cardio. 
Oversized texture pedals – this feature ensures the perfect foot placement and sprint position for any user, regardless of their foot size. 
20 resistance levels – adapt to users' diverse fitness levels and enable precise control and intensity for a challenging and adaptive workout session.
Adjustable HD touchscreen console – the 16″ interactive console can be adjusted at the perfect viewing angle for users. 
JRNY Digital Fitness – this app features a refined fitness assessment, virtual coaching, on-demand classes with experts, and personalized workout programs. This can also be used to explore virtual destinations at the user's own speed, access streaming media apps, Bowflex Radio and Run social app, and other tools for a highly efficient workout. JRNY offers a personalized workout experience for unlimited users!
Bluetooth speakers – this can be connected to a smart device, like a tablet computer or mobile phone, to blast favorite tunes and go-to jams while exercising.
Built-in media shelf – the media shelf can store stuff like a smartphone, tablet computer, or wallet so that users won't have them filling their pockets or lying around the house. Users can also use them while in the middle of their exercise routine. 
USB Charging Port – the USB charging port can be utilized to charge devices while doing workout sessions. It saves users enough time to have their gadgets on the go after exercising.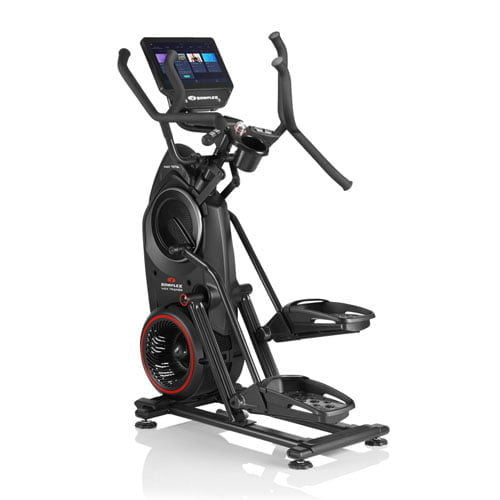 Low-Impact, Full-Body Workout
The low-impact HIIT workouts are among the good things I personally love about the Bowflex Max Total 16. It feels really easy on the knees, which allows you to protect your back and joints.
In my experience, this Max Trainer shouldn't cause you any pain in your knee joints despite doing quick and intense pedals.
The Bowflex Max Total 16 became my ideal alternative to the usual aerobic exercise, like riding the road bike and long runs, which may potentially cause arthritis and joint pain.
I know this kind of pain feels like hell, and I don't want that for you.
It's also a great exercise equipment for a full-body workout, especially if you want to lose weight.
Low-impact activities don't necessarily mean low-intensity, and they are still good ways to burn fat.
With the Max Trainer, you can perform High-Intensity Interval Training (HIIT) to improve your metabolism and burn unwanted body fat, minus the risk of joint pain.
Resistance
Are you worried that the resistance levels won't suit your preference and fitness level?
Worry not! I'm certain that you can still scale up and pick up your pace with this Bowflex Max Trainer. It allows you to manually adjust the steel resistance dial in 20 resistance levels.
I really like how the several levels of resistance allow for fair control and intensity for each user. It also allows GRADUAL adjustments to adapt to my progress and fitness goals.
Whether I want intense or relaxed exercise sessions, I simply adjust the resistance level to my liking. I think this is a great feature for both beginners and pros.
The machine also utilizes magnetic and fan systems for higher speed and resistance levels.
The magnetic system works silently, saving you from all the annoying noise while working out. The fans, however, may produce a little noise, but it's a great way to step up your game.
With its adjustable resistance and 6-grip handlebars, you can surely engage with your upper body and core muscles while ensuring a fun and challenging training session.
JRNY Digital Fitness
Every purchase of the Bowflex Max Total 16 comes with one year of free JRNY membership.
Another highlight of the Bowflex Max Total 16 is its access to the digital fitness app, JRNY.
Although many people think this is a downside with the JRNY membership required, I personally think it's a HUGE UPGRADE for Bowflex Max Trainers.
The JRNY app enables users to track their progress through in-app workout tracking. With this, you can take note of several workout metrics like:
Heart rate
Calorie burn
Total distance
Interval
Pace
Time spent
Awards and personal bests
It also gives access to adaptive workouts and on-demand classes by world-class trainers.
With this, you can experience exercises with different time ranges and types, including HIIT, endurance, and recovery.
You'll also get real-time coaching and a whole library of instructional videos that focus on fat burn, calorie burn, and other customized workouts.
I really find this app EXTREMELY helpful. The personalized workouts and virtual coaching helped me realize my fitness goals, and I want you to experience that as well!
Another thing I know you'll love about JRNY is its ability to stream Netflix, HBO Max, Hulu, and other entertainment apps. Plus, you can enjoy music and scenic routes while exercising!
With this, I was able to listen to my favorite workout jam and binge-watch TV series while exercising. I never missed an episode of my best-loved shows, even with a hectic schedule.
JRNY can also be accessed through their mobile app. Simply download the app on your device and access all programs and workout data, even if you're off the Bowflex Max Total 16. When you purchase this Bowflex Trainer, you can get a free 1-year JRNY membership worth $149 ($12.42 per month).
Price
You can get the Bowflex Max Total 16 exclusively from the Bowflex website for only $2,499. If you find the price bank-breaking, you can also opt to apply for their online financing services.
Bowflex offers 18-month promotional financing where users can pay $139 monthly without interest fees.
The exemption for monthly interest charges is only applicable if the promotional purchase is FULLY PAID within 18 months.
If not, Bowflex will charge a minimum rate of $2 from the purchase date.
You can apply for their financing services through their website and get approved within a few minutes. You only need to fill in and submit the credit application form.
Additional charges may be added to your bill if you want to avail of their in-home assembly assistance and protection plan for your equipment.
In-Home Assembly
If you think you can't assemble the Bowflex Max Trainer yourself (like me), you can choose to purchase their in-home assembly services for an added cost of $169.
This includes moving the package to your desired workout space, a full installation by a qualified technician, and removing the boxes.
This is a really big help for people like me who aren't too familiar with setting-up electronic equipment. Plus, it saves us from the hassle of improper installation.
If you ever decide to avail of these services, Bowflex will contact you via email to schedule your appointment.
But, if you wish to cancel your purchase, you can contact customer service to get a refund. They will return the money to your account within 7 business days.
NOTE: The availability of in-home assembly is limited in some parts of Alaska and Hawaii. If you reside within these areas, reach customer service to inquire if they can cater to you before purchasing.
Protection Plan
Another additional purchase you can consider when buying your Bowflex Max Trainer is the protection plan.
For maintenance purposes, you can choose to EXTEND the labor coverage for up to 3-years for $199. You can also stretch it up to 5-years by paying $259.
I must admit, this Bowflex equipment is on the pricier end. But, it also comes with lots of features you'll certainly love.
Also, imagine how much you'll SAVE from gym membership fees with a single purchase. You no longer need to go to your local gyms to work out.
The Max Total 16 allows for low-impact HIIT workouts that engage your whole body. This is truly ideal if you wish to lose weight or maintain a physically fit and healthy body.
Warranty
Bowflex Max Total 16
3-years frame
3-years parts
1-year electronics
90-days labor
Once you purchase the Max Total 16, you already have free access to its standard warranty, which includes.
Hence, if you encounter any problem with your equipment, you are assured that you can get them fixed right away. However, it's best if you understand the terms and conditions of the manufacturers to know the limitations of liability.
Labor and Parts Coverage
For the 90-day labor and 3-year parts coverage, the company can send out qualified technicians to install and remove damaged parts on the equipment.
They will shoulder all the labor costs needed for the job and the parts for replacement under the manufacturer's warranty. But, this doesn't include the initial installation of the equipment.
Repairs, Replacements, and Reimbursements
During repairs, they can either replace damages with new, refurbished, or used manufactured parts.
However, if technicians find it difficult to repair the parts, they can replace the purchased product for you. Yet, they also stated that the replacement MAY NOT be of the same model.
Manufacturers only guarantee their customers that they will provide a replacement with similar features and functionality.
Their terms also state that replacement products may have a lower selling price, and your warranty coverage will no longer apply.
If the company decides to reimburse your payment for the defective item, they may decide to give an amount LOWER than the purchased price.
Ideally, reimbursements should not exceed the amount paid for.
Additional Benefits
Other benefits covered on the warranty are power surge and no lemon guarantee.
A power surge may be claimed if damages were caused by an OVERSUPPLY of voltage, but with proper installation and connection to a power source.
The no lemon guarantee, on the other hand, states that the manufacturers will reimburse or replace the original model with similar equipment having the same quality if:
3 repairs have been done within 12 months
A fourth repair is still needed after the 3 repairs
Filing a Claim
To file a claim, you need to do the following:
Call them via telephone at 1-888-257-9258 with your contract purchase receipt readily available
Explain the issues you encountered with your equipment to the agent and provide supplementary details and evidence to support your claim
Get the repair order number from the agent and wait for further instructions on what to expect next.
NOTE: Explain your problems in full detail to the agent. This way, they can identify the best solution to solve your issues.
You can include pictures in addition to your description for further illustration.You can access and read the entire document here if you wish to learn more about Bowflex's terms and conditions.
Dimensions
Another feature I appreciate about the Bowflex Max Total 16 is its space-saving ability.
This bad boy can adjust to very limited space. You don't need a super big apartment to fit this in your home gym.
To give you a picture of the Max Trainer, here are its full dimensions and other measurements:
Length: 49.3 inches
Width: 30.8 inches
Height: 65.7 inches
Maximum user weight: 300 lbs.
Assembled weight: 155.4 lbs.
Minimum ceiling height: 15 inches above user height
Design
The design of the Bowflex Max Total 16 is very PREMIUM and COMPACT. It's also lightweight compared to a stationary bicycle and other traditional home gym equipment you usually see.
With its assembled weight and wheels, it's very easy for me to transport and pack up the Max Total. I didn't have to worry about it lying around my living room or in other parts of the house.
The dual rail design also allows for maximum stability and a smoother glide amidst intense stepping motions.
Despite being lighter than most elliptical machines, the Max Trainer didn't feel frail or fragile. It can even support a heavy weight capacity of up to 300 lbs.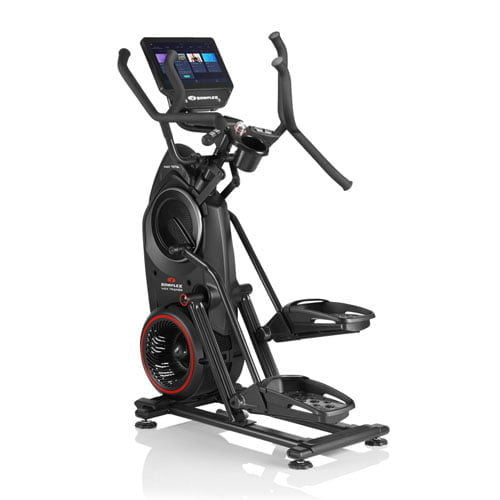 Setting Up
Out of the package, the frame of the Bowflex Max Total 16 is already assembled. But, its other parts are yet to be installed and attached.
If you're quite the handyman (or if you know someone perfect for the job), you can set it up by yourself or with someone else's help.
The package includes a step-by-step guide on how you should assemble the Max Trainer properly. You can also refer to this Youtube video to guide you throughout the process.
But, if you find the task a little difficult, you can always purchase their in-home assembly services along with the equipment, as I did.
This is also to ensure that the installation process is correct and you won't encounter any issues when using the Max Total 16 for the first time.
Frequently Asked Questions Answered by Users
Those are our thoughts on the new Bowflex Max Total 16. It's totally a must-have home workout equipment, and we're certain that you'll fall in love with all its features.
If you have more questions about this Max Trainer, stay back. We've gathered questions and feedback answered by legit Max Total users, which you might find helpful:
When Did the Bowflex Max Total Come Out?
The Bowflex Max Total 16 is a new addition to their lineup of Max Trainers. It was first introduced in the late parts of 2021 and was put on sale on their website in November of the same year.
Is Bowflex Max Trainer a Good Workout?
Totally! For me, the Max Total allows for low-impact HIIT workouts that are not harsh on the knees, back, and joints.
It also engages your whole body in the entire workout routine with its 6-grip handlebars and oversized pedals.
You also have the ability to access virtual coaching, on-demand classes with world-class trainers, all-in-one progress tracking, and personalized exercises with the JRNY app.
The platform also sets it apart from a traditional elliptical and stair stepper. Here, you can stream Amazon Prime Video, Netflix, Disney+, and a whole lot more to enjoy your workouts!
What Are the Differences Between Bowflex Max Total 16 and M9?
The Max Total 16 and M9 are categorized as ellipticals by Bowflex. Both of them have an interactive console, but the M9's screen is only 10-inches wide.
The M9 is also a tad bit smaller than the Max Total 16, and its handlebars only have 4-grips instead of 6. It also lacks the dual rail design we really love for a sturdy yet smooth workout.
But similarly, the M9 has 20 levels of resistance which can be adjusted with a resistance knob, Bluetooth connectivity, a heartrate armband, and a free 1-year JRNY membership.
How Do I Maintain the Bowflex Max Total 16?
Maintaining the Max Total is a piece of cake! In fact, it doesn't need as much maintenance as your traditional equipment.
I only oil and grease its parts once in a while to maintain its functionality. I also use the appropriate power source and ensure the wiring is properly installed.
If your equipment is still under warranty, you can contact the manufacturers to avail of their services. You can also extend this by making a separate purchase.
Can I Use Bowflex MT16 Without JRNY Membership?
You can still use the Max Total 16 without a JRNY membership by operating it in manual mode.
But, if you want to enjoy all the perks of your Max Trainer, the JRNY membership is a must-have. It also gives you lots of benefits that are all useful in making your workout routines fun.
Bowflex Max Total 16 (MT16) Bottom Line Review
The Bowflex Max Total 16 is a great cardio machine with everything you need to inspire your very best effort in every routine.
I also like the fact that its build is pretty compact, occupying minimal floor space. The equipment is also very sturdy yet lightweight and can support heavy weight capacity.
The Max Total is also equipped with essential features that are more than what you usually see in a stair stepper and traditional elliptical machines. It has:
Heart rate hand grips and Bluetooth armband
6-grip handlebars
Oversized textured pedals
Adjustable resistance knob
All these work perfectly for proper full-body exercises to keep you in good shape.
For me, the main asset of this Max Trainer is its 16″ interactive HD touchscreen console that allows users to access personalized workout programs and metrics through JRNY.
This feature also enables access to your favorite entertainment apps, allowing you to stream Netflix, Hulu, Amazon Prime Video, Disney+, and HBO Max while exercising.
Besides that, the Max Total 16 includes a Bluetooth speaker and a free JRNY membership.
Should you get the Max Total 16?
The answer to that depends on your evaluation of your fitness goals and on the product itself. But in my opinion, the Max Total 16 is a pretty great steal!