The short answer is your glutes, hamstrings, quads, chest, back, biceps, triceps, and core.
The elliptical crosstrainer primarily works on your leg muscles. And if your elliptical machine also has moving handles, it will also target your arm muscles.
Having a good elliptical machine is a good investment.
If you maintain the correct posture and position the machine at the incline, ideal for your body and fitness goals, you also get to work on your core and back.
It is similar to other cardio exercises like running and biking and offers the same benefits.
Let's dive deeper into them!
What Muscle Groups Do Elliptical Workouts Work On?
Stationary bicycles put most of the work on the quadriceps, but with an elliptical cross trainer, the work is equally distributed to the hamstrings, glutes, and even the upper body.
And since more muscle groups are sharing the work, your thighs do not work as much compared to what will be required in a stationary bike machine.
Let's look at the involved muscle groups, starting with which lower body muscles are involved!
Hamstrings
Your hamstrings are muscles at the back of your legs, in charge of knee flexion. It comprises 3 individual muscles: the semitendinosus, the semimembranosus, and the biceps femoris.
An elliptical trainer mostly works on muscles involved with leg flexion and extension.
And if your exercise equipment has a feature that lets you increase the incline, you also get increased leg flexion and will need to use your hamstrings even more.Additionally, if your elliptical machine lets you move in reverse, these will let you work more on your hamstrings and assist with hip extension, thanks to the backward movement of your thighs.
Gluteal Muscles
Next, we have the glutes. Your glutes are composed of the gluteus maximus, gluteus medius and the gluteus minimus.
It is the largest of the three muscles of the legs and is mainly in charge of hip extension. This is especially emphasized when you use your elliptical machine at an incline.
The key here is not to keep up with the speed when the machine is at an incline; the resistance training tightens the glutes!Strengthening your glutes also help with back pain if you have back problems and also improves your posture since it works on your back muscles.
Quadriceps
Your quadriceps are a group of four muscles found at the front of your thigh, the vastus medialis, vastus lateralis, vastus intermedius, and rectus femoris.
You use them on your elliptical machines when you push your feet down during the knee extension.
And when you straighten your legs during your elliptical workout, you get to work on your quadriceps (even if you can hardly feel them working).
You work on these four muscles whether you're going forward or backward! You also work on your hip flexion while on the elliptical cardio machine.Working on your quads not only helps you lose body fat on your hip and knee areas, but it will also strengthen your compound liftsand knee stability and even reduce your chances of injury!
Calf Muscles
Source: myacare.com
The gastrocnemius and soleus muscles in your calves are also used when you're on the elliptical machine.
They perform plantarflexion, which happens when you move your feet downward from your body.
It is used when you press the ball of your foot against the pedals of the elliptical machine or when you stand on your tiptoes.
And when you work out on an incline, these muscles work even harder.
Arms, Chest, and Shoulder Muscle Groups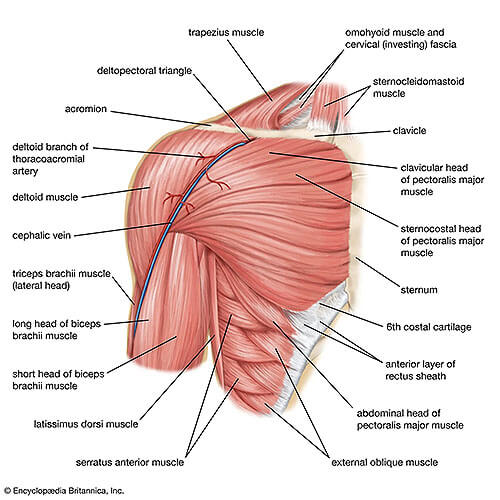 If your elliptical machine has upper-body levers, you get to work on your arms. When used, they activate the pushing muscles of your arms when they are straightened.
Your triceps at the back of your arms and pectoral muscles that support the chest work when you push the bicycle handlebars.
Aside from pushing, the upper body levers activate your pulling muscle group when your arms are bent.
Your pulling muscles are your biceps which are involved in elbow flexion, and your rhomboids which are in charge of pulling your shoulder blades together in your back.If you want to work more intensely on your pulling muscles, use the elliptical machine in reverse.
Back Muscle Group
Compared to using the treadmill, an elliptical workout puts less strain on your back and joints and improves muscle strength in your lower back along the rib cage.Additionally, working on your biceps strengthens your elbows, which will help you lift heavy objects and, again, lessen the strain on your back.
Core Muscles
When you do your elliptical workout with proper posture, your core muscles also get a workout.
Your back and abdominal muscles contract to keep you upright as you work out, and they work to maintain your balance. Avoid putting your weight on the handles.
To properly exercise your core muscles on the elliptical machine, make sure not to lean in forward too much andWorking on your core muscle group benefits your overall health and strength and helps reduce belly fat faster. It also improves your posture and benefits your back!
Are Ellipticals Good for Losing Belly Fat?
Yes, elliptical work can help you lose fat on your belly if you do your elliptical workout in a certain way.
The elliptical machine generally burns over 300 calories in only 30 minutes. But of course, the intensity of how you use it can change this number.
Suppose you do your elliptical training with high-intensity interval training (HIIT). In that case, it directly affects fat burning for your belly, especially when combined with resistance training for weight loss.
We recommend you create a specialized program with a certified personal trainer for the best results on your belly fat and the rest of your fitness goals.
What Do 30 Minutes on the Elliptical Do?
Thirty minutes of elliptical work will give you an average calorie burn of around 335. But elliptical machines don't just help in burning calories.
It works on the major muscle groups of your lower and upper body and strengthens your cardiovascular health.
If elliptical work is done regularly at the right intensity and coupled with proper diet and lifestyle, you will see results in your entire body and even lose fat in as fast as 3 to 4 weeks!
Frequently Asked Questions (FAQs)
Do you have more questions about the elliptical machine besides burning calories and which muscles you work on? Get your answers here!
Can the Elliptical Make You Toned?
Yes, the elliptical machine can make you toned.
As we mentioned above, the elliptical machine works on your lower body muscles, upper body muscles, back muscles, and core.
So it's a great full-body workout to help you burn calories, lose weight, and get toned.
Will the Elliptical Machine Give Me Abs?
Yes.
Elliptical machines work on strengthening your core, so yes, they will tone your abs as well.
Is Elliptical Better Than Walking?
Yes, here are a few reasons why:
The elliptical machine lets you burn more calories than simply walking outside.
An hour on the elliptical machine averages 365 calories burnt, while walking will only burn about 314 calories.
That's not all. Walking puts great stress on your hips and knee joints, while an elliptical workout protects you from those.
What's Better, the Elliptical or the Treadmill?
It depends.
A treadmill is a running belt at an incline. You can control the speed and the incline, but it's not that different from walking.
Treadmill workouts have more flexibility and control, and you can choose from various programs to fit your fitness goals. Building muscle is faster and easier on a treadmill.
Meanwhile, an elliptical machine lets you put your feet on a platform and move in ellipses. You can also control the speed and incline, like on a treadmill.
An elliptical is more of a low-impact cardio machine and does not strain your joints as much as a treadmill.
Elliptical work is perfect for those who want HIIT but have low-back pain, knee pain, and hip pain.
Elliptical work also involves upper and lower body workouts and cardio exercises. It is a workout for your whole body and is safe for those recovering from injuries.
Additionally, elliptical cardio machines have both forward movement and backward leg movement.
This allows you to work on different whichever major muscle group on your lower body you want to focus on.
Ultimately, it's up to you to decide which aerobic exercise is better for your body.
It will all boil down to your body needs, fitness goals, health issues or injuries, and gym equipment that suits those best.
Can I Build Muscles With an Elliptical Workout?
Yes!
Elliptical trainers build muscles in all the muscle groups involved when you use them.
Can I Do an Elliptical Workout Everyday?
Yes.
Using the elliptical machine once every day, even for only 15 minutes daily, will improve your stamina and balance, strengthen your heart and lungs, burn calories, and aid in healing your injuries if you have some.
And, of course, let's not forget toning and building all the muscle groups involved!
Is It Better to Go Forward or Backward on an Elliptical?
It depends on which muscles you want to work on.
Going forward works on your glutes and hamstrings, while going backward will strengthen your calves and quads and give you a more intense cardio exercise.
Conclusion
And that's everything you need to know to get started on your elliptical workout! Elliptical workouts are a good overall workout.
Ready to get your elliptical machine to get you out of your sedentary lifestyle? Check out this list of the best elliptical trainers under $500 to get your cardio exercise started today!
And for those who live in a small apartment and don't have much space to work with, there are also great foldable elliptical machines available for you!
We hope you'll start targeting those active muscles during your elliptical workout ASAP!