The Bowflex Max Trainer is a combined stair-stepper and elliptical machine. It offers high-intensity, low-impact full-body workouts with high-tech console features.
Do you want to know what the Bowflex Max Trainer actually is? Let's dissect this machine by features to find out.
Is Bowflex Max Trainer an Elliptical?
The Bowflex Max Trainer is a type of elliptical machine that provides a full-body workout without abusing your joints.
What sets this machine apart from regular ellipticals is its distinctive design.
Instead of a linear forward and backward motion, it has a more inclined vertical movement.
Adding to its sleek design is its high-tech console.
This is also one of the best picks for homeowners with less time to hit the gym. Its compact size can surprisingly handle weight up to 300 lbs!
NO MORE JOINT PAIN, as this gives you high-intensity, low-impact workouts!
A List of Bowflex Max Trainer Products
Let's check out these hybrid machines by Bowflex. Each one has unique features that you might be interested in:
1. Max Trainer M6
Among all trainer models by Bowflex, the Max Trainer M6 is the most popular one.
Specifications:
Warranty: 2 years — Frame & Parts; 90 days — Labor
Assembled Product Weight: 148 lbs (67 kg)
Maximum user weight: 300 lbs (136 kg)
Dimensions: 46″ L x 26″ W x 64.2″ H
Bluetooth and USB connectivity
Aside from its compact size, it also weighs lighter than other fitness machines. This is perfect for your home gym. Transport rollers are also included so moving this equipment is easy.
The downsides of this product are the 2-year warranty on parts and 90-day labor; and the retro-tech console.
Apart from that, this machine can absolutely satisfy your full-body workout needs! It gives the just-right upper and lower body workout you need, especially for beginners.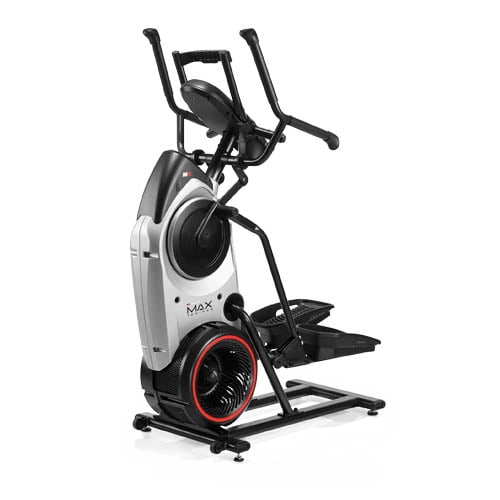 2. Max Trainer M9
This product is a more hi-tech version of the M6. Workout capacity, weight, and dimensions are similar, but the console features are way better!
Specifications:
Warranty: 3 years — Frame & Parts; 90 days — Labor
Assembled Product Weight: 148.8 lbs. (67.5 kg)
Dimensions: 49.2″ L x 30.5″ W x 65.1″ H
Maximum user weight: 300 lbs (136 kg)
10″ HD touchscreen
4-grip handlebars
Users with varying fitness levels can fully test their limits as this machine is built with 20 levels of resistance.
Aside from the high-tech console, the machine is sturdy when it only weighs 148 pounds.
Overall, this machine has outstanding workout features to help you with your fitness journey. 
3. Max Total 16
The Bowflex Max Total 16 is the latest and most advanced Max Trainer on the market. Its hi-tech console feature offers a wide variety of entertainment while doing your workout.
Specifications:
Warranty: 3 years — Frame & Parts; 90 days — Labor
Assembled Product Weight: 155.4 lbs. (70.5 kg)
Dimensions: 49.3 " L x 30.8 " W x 65.7 " H
Maximum user weight: 300 lbs (136 kg)
16″ HD touchscreen console
6-grip handlebars
The cardio and full-body workout routines you can do with this machine are impressive! One of the highlighted features of this machine is its 16" smart console.
Partnered with the JNRY app, you have access to its virtual coaching upon purchase. Check here to find out more about JNRY membership.
Another cool feature is its six huge grip handlebars will help you tone up your upper muscles while working with your cardio.
This compact-sized machine seems to have it all!
Conclusion
This hybrid fitness machine definitely deserves a spot in your home gym.
Whether for simple low-intensity workouts, or quick HIIT routines, you'll be able to exercise as you see fit to match your goals.
We hope this quick guide has enlightened you about this unique exercise machine!