Are you in dire need of burning calories and achieving your fitness goals?
Maybe you want to undergo weight loss, yet you think a traditional treadmill, incline trainer, stair stepper, or elliptical trainer won't be enough to burn more calories.
What if we told you that there are cardio machines that will give TWICE the fitness benefits from those mentioned equipment?
In this article, we'll introduce you to the versatile Bowflex TreadClimber and its pros and cons!
What Is the Bowflex TreadClimber?
The TreadClimber is a fitness machine that does twice the job of a traditional treadmill, stair stepper, and elliptical for losing weight.
It is designed to utilize different workout programs that use the walking motion.
Having this fitness equipment means engaging in super low-impact workouts with a .5 to 4.5 MPH speed range that benefits all ages and fitness levels.
It even caters to those with knee and ankle pains and assists in recovery with proper workout options and treatment plans from medical experts.
The latest versions (TC100 and TC200) have a progress tracker for you to set goals and track your developments in terms of weight, speed, and more.
Main Features of This Fitness Equipment:
.5 – 4.5 MPH speed range
Integrated contact grips for heart rate monitor
Built-in USB port
Water bottle and media shelf
Tablet holder
Fully backlit LCD
Even though it is not designed for running, like the treadmill, the different versions of the TreadClimber provide efficient ways to work out while maximizing the walking motion at your own pace, time, and place.
All you have to do is to place the TreadClimber on your home gym with these specifics:
Clean floor
Hard floor surface
Level surface
You can always use a carpet to protect the machine and your floor from getting unnecessary scratches and lines. Yet, BowFlex also offers machine mats to address that matter specifically.
Nevertheless, what sets apart the TreadClimber vs. a standard treadmill are the following conditions:
TreadClimber's two independent treadles
Unique design which combines the motions of a treadmill, stepper, and elliptical
Low-impact activities that burn more calories than using a standard treadmill at the same speed
To assist your joints, the treadles go in an up-and-down movement to meet your steps
Moreover, it has been created and tested for users with a maximum weight capacity of 300 lbs or 136 kg.
The integrated contract grips embedded in the TreadClimbers allow you to monitor your heart rate during workouts.
You can follow exercises and monitor your vitals through the fully backlit LCD of your TreadClimber. It also has easy access controls when you need to shift the level of your walk or climb.
A media shelf is also present to display your tablets or phone when you need to access them during the exercise. Moreover, a water bottle holder is also included in the design to fill in your hydration needs.
The TreadClimber has two models of cardio equipment, the Bowflex TreadClimber TC100 and the TC200.
Yet, before these newer models, there had been a lot of versions of the TreadClimber, which we will also look into in the complete Bowflex TreadClimber review section.
Bowflex TreadClimber Pros
A low-impact workout that will not put too much pressure on the knees
Indoor walking with different levels to match outdoor walking conditions
Climb indicator for latest models
Treadmill and stair climber in a single machine
Size is enough to fit most home gyms
Financing options in purchases are available for all TreadClimber versions
Updated with LCD monitor, heart rate hand grips, built-in USB charging stations
With an extensive media shelf to place gadgets when you want to watch TV
It can hold up to a maximum weight capacity of 300 lbs or 136 kg
Can track speed, time, distance, calorie burn
3-in-1 walking workouts and 2.5x more calories burned (compared to the standard treadmill)
Bowflex TreadClimber Cons
Machines may have heavy assembled weight (TC100 at 158 lbs, TC200 at 202 lbs)
Machine assembly is required
Designed for walking motion only (if you are a runner, this one's not for you)
Only up to 2 TreadClimber app user profiles (TC100) and four user profiles (TC200)
About Bowflex: The Company Behind This Fitness Equipment
Bowflex is a company established in 1986 that develops workout equipment addressing the needs of varied individuals worldwide.
They call themselves fitness robots who think about fitness equipment beyond the conventional, giving people like you gym-quality results in the comfort of your home.
Based on their website, they focus on giving people all-in-one machines that will present results faster than any traditional equipment on the market.
Their tagline, Stronger Every Day, encapsulates their goals and visions, which translates into their products, such as the TreadClimber, which brings walking, weight loss, and exercising for health into the four corners of a home gym!
Full Bowflex TreadClimber Review
TreadClimbers are not limited to the TreadClimber TC100 and TC200 versions.
To give you a fuller view of what a TreadClimber is, we will show you the TreadClimbers through time, from the latest ones and even the discontinued models.
A look into the evolution of the TreadClimber will help you see how it continuously adapts to your physical exercise needs (e.g., burning calories) while ensuring your comfort by working out at home.
Different Models
Aside from the TreadClimber TC100 and TC200, there were other TreadClimbers that previously showcased their functionality and design.
In this section, we will talk about the TreadClimbers, starting from the TC100 and TC200 to the former models of TC20, TC10, and TC5.
Bowflex TreadClimber TC100
You can buy a Bowflex treadmill and stay as it is, or you can maximize the machine and enjoy awesome customized workouts!
The Bowflex TreadClimber TC100 offers specs and features that are of good use to both beginners and pros to burn calories and strengthen physical attributes.
It offers speed, distance, time, and calories as electronic functions with a speed range of .5 to a top speed of 4 MPH.
You can also adjust the resistance levels up to level 12. This means you can start walking at a slower pace and increase it as you progress in walking.
The Bowflex TreadClimber TC100 can be a better fit for those who need joint and knee strengthening because it offers a low-impact workout.
Moreover, it also has a fully backlit LCD, a climb indicator, and a heart rate monitor, which is a major revamp from the previous model (TC10).
These features can help you track your pulse rate while walking on the machine!
On top of that, it also has an extensive media shelf where magazines, phones, tablets, and other essentials can fit. The built-in USB charging ports allow you to charge your other gadgets while walking.
If you plan to invest in this TreadClimber TC100, you need to consider the ceiling height of your home gym and the maximum height of the machine to have enough clearance and as much space.
Currently, the TC100 is no longer available on the official website. Nevertheless, it was priced at the best deal of $1599.
Bowflex TreadClimber TC200
The TC200 introduced itself as a piece of fitness equipment that does everything a TreadClimber TC100 can do and MORE.
This popular model has 5 workout programs you can choose from. These are Just Walk, Calorie Goal, Time Goal, Distance Goal, and Interval.
Aside from that, it even has a slightly higher speed range than TC100 with .5 to 4.5 mph. The TC200 also offers Bluetooth 4.0 connectivity that will help you track your fitness journey, including weight development, by connecting with these apps:
My Fitness Pal
Apple Health Kit
Google Fit
What sets the TC200 apart from the TreadClimber TC100 is the number of user profiles registered on the machine. For the TC200, you can store up to 4 user data.
The heart rate monitor for this one has also leveled up because it has a chest strap aside from the usual contact grips.
A media shelf for all your gadgets and extra things is still included in the TC200, together with the built-in USB charging port.
Besides these great deals, the TC200 also has larger treadles to give you more space when walking and following different workout programs. It also has a center crossbar to keep up with your balance.
If you think these upgrades on the TC200 from the TC100 are significant to your lifestyle, then taking your walking fitness equipment to the next level at the best deal of $1999 is worth it.
However, as of the moment, it is no longer available on the official website.
Bowflex TreadClimber TC20
After delving into the latest models, it is also essential to look back at the previous ones that significantly impacted the latest versions of the Bowflex TreadClimber.
Although the TC20 is a discontinued model, it still has similarities with the TC100 version because of the resistance levels (12) and the number of user profiles which is 2.
Moreover, it has a belt speed range of 0.4 to 4.5 mph with a heart rate monitoring feature and a goal-oriented coaching program where you can track your fitness progress weekly.
The backlit LCD is also present in this discontinued model. However, it does not have touch sensors for the heart rate monitor. Instead, it has a wireless chest strap to do the job for you.
If you want to start your workout journey using this machine (note that it is not available on the Bowflex website), maybe you can buy secondhand TC20 machines on other platforms.
Bowflex TreadClimber TC10
Another discontinued model is the TreadClimber TC10, an entry-level TreadClimber with the TC20 as the high-end model.
Storing data from users' progress started with the TC10 with a single user profile feature.
Since it is a model released before the TC20, it does not have a heart rate monitor and only has a belt speed range of .4 to 4 mph. It also has shorter treadles than the latest ones.
Nevertheless, it has a goal-oriented coaching program similar to succeeding models of TC10 (TC20 and above).
It also has a lesser warranty period of 2 years compared to other models, which have a 3-year warranty.
Similar to the TC20, this model is also unavailable on the Bowflex website. Any purchase of this may be made on other platforms with secondhand machines.
Bowflex TC5
Since this is the earliest model listed in this article, we can see that it was designed without electricity. This means how much force you put on the TC5 will dictate your speed and intensity.
Even if it does not run on electricity, you can still view your speed from the machine's LCD without the backlit feature. Yet, the device can only read a maximum of 4.5 mph.
You can also track your time, distance, and calories burned from this machine.
However, it only has a single resistance level without user profiles to store your workout data and progress.
The TC5 only offers a one-year warranty for the product, which is a big difference from the three years warranty of the latest models.
Nevertheless, this was a revolutionary and ergonomic entry-level TreadClimber that is no longer for sale.
Overall Construction
Bowflex TreadClimbers were designed by creators who considered users' comfort with each function's usability, from the treadles to the handles, the screens, and all the other accessories.
It can even hold a maximum weight capacity of 300 lbs or 136 kg, enough to cater to an extensive range of individuals.
The latest models of the TreadClimber allow users to walk at different elevations while ensuring ease of walking, as seen in how the treadles incline and decline, synchronizing with the user's feet.
USB ports, spacious media shelves, and LCD are also very efficient details that make users maximize the usage of the machine.
They can do these by charging other devices or transferring data (USB ports), including other workout materials in their daily TreadClimber walks (media shelves), and looking at their progress on the monitors (LCD).
Workout programs in the new models make walking fun and personalized for the users. This encourages them to use the machine to burn more calories, have some weight loss, and be physically active.
Screen/Console
The screens in the latest models are good enough to view and manipulate the different features of the machines.
It evolved and now has a straightforward layout, allowing new users to learn them more easily.
However, the screens can still be improved with higher-definition touchscreens and other modern screen displays with a wide range of features.
It's essential to match the prices given on the machines.
On the other hand, the consoles have a practical media shelf, holders, and charging port relevant to modern multitasking needs. You can do your current workout while watching TV entertainment apps and charging your devices!
The USB charging port on the console can also be used to transfer files and connect data from the TreadClimber to the Bowflex profile.
Nonetheless, enhancing these features of a TreadClimber can significantly affect a user's overall experience with the Bowflex TreadClimber line.
Workout Programs/Features
Walking workouts on the TreadClimber have now adapted to users' modern needs and wants.
You can do a more challenging workout with the Just Walk, Calorie Goal, Time Goal, Distance Goal, and Interval workout features of the TC200.
You can also track your workout progress using the Speed, Distance, Time and Calorie Burn features of the TC100.
Moreover, the number of resistance levels present in the TreadClimbers can help you personalize your workout, depending on whether you are a beginner or a professional athlete.
Yet, we feel like it can still be improved. Developers can still add workout features that will change the walking game, like incorporating bigger screens and the JRNY experience.
The JRNY experience, with scenic routes and entertainment apps, can significantly affect how users experience walking using the TreadClimber.
Value for Money
With the current developments in the TC100 and TC200 models, with price tags of $1599 and $1999, respectively, you can indeed have a good value workout machine for your money.
A TreadClimber is an excellent fitness investment that works like treadmills, steppers, and ellipticals in one, which can be personalized based on how you want your walking workout pace to be, with easy control panels and a visible LCD.
User Reviews & Testimonials
Knowing products is always better when you hear the stories of those who have been using them for quite some time.
In this article, we will not just look into the technicalities of how different Treadclimbers work, but also how they work for consumers themselves.
Here are some reviews:
"I enjoy the Treadclimber because it is easy to use and comfortable. The only thing is that with the TC100, you can't add another user besides the two […] available. It would be good if it also comes with a screen to wash free, programmed Bowflex Treadclimber workouts."
-Anonymous, Bowflex Official Website.
"We use this product at least several times per week. It was easy […] to set up, especially with the video and manual […] The features give ample options for increasing and decreasing workout time and intensity. It's successfully taken the place of both the elliptical and stairclimber, saving floor space. All in all, great value and quality."
-Anonymous, Bowflex Official Website
"I have had it for two days, but I love it. Advice: don't pay for the setup. I had it in my living room for three weeks before they came to put it together. I had to call eight times to get that."
-Anonymous, Bowflex Official Website.
Frequently Asked Questions
Questions are what complete a full review. For this, we listed a bunch of TreadClimber-related questions with their answers. Read through to know more.
Why Was the Bowflex TreadClimber Discontinued?
The Treadclimber line was discontinued to focus on the innovation of Max Trainers, which offers fantastic workout routines and features for your fitness goals, much more than the benefits of a treadmill.
Is the TreadClimber Better Than a Treadmill?
Yes, in terms of walking, the TreadClimber is better than treadmills. In the same sense, a TreadClimber acts as a treadmill, stair stepper, and elliptical in one.
However, when talking about running, a TreadClimber is not better than a treadmill because it is only designed for walking.
Is the Bowflex TreadClimber Hard on Your Knees?
No, because it is a low-impact workout machine. It will not stress your joints and knees so much as with treadmills.
Also, the latest models' treadles will meet your feet, up and down, as you make the walking motion.
Alternatives to Bowflex Treadclimbers
Since Bowflex TreadClimbers are either discontinued or not available on the Bowflex website, here are some Bowflex equipment that will give you similar or more desirable fitness results:
1. Bowflex Max Total 16
Are you looking for a better machine that caters to your high-intensity interval training preferences?
There is no need to look further, as the Bowflex Max Total 16 can do a lot for your fitness experience and workout journey!
First, it has a 16-inch high-definition interactive touchscreen console where you can immerse in scenic routes (JRNY membership required) while exercising. You can also track your speed, intervals, distance, and pick different workout programs.
It also has 20 resistance levels which you can maneuver using the steel resistance dial.
Your hands can also exercise and still be comfortable with the 6-grip handlebars. You can choose what level of handlebar suits your hands.
It also has a heart rate armband that directly monitors your heart rate, which you can view from the HD console through Bluetooth.
The dual rail design of the Max Total 16 is also a great feature that helps you with your body's stability while working out. The oversized textured pedals also aid in your full-intensity workout programs.
The machine also includes a shelf to use your phone or tablet while exercising your body efficiently. It also has Bluetooth speakers. These can give you fun and entertainment while indulging in your preferred HIIT programs!
Most of all, it is priced at $2499 or a $139 monthly payment if you avail of the 18-month promotional financing.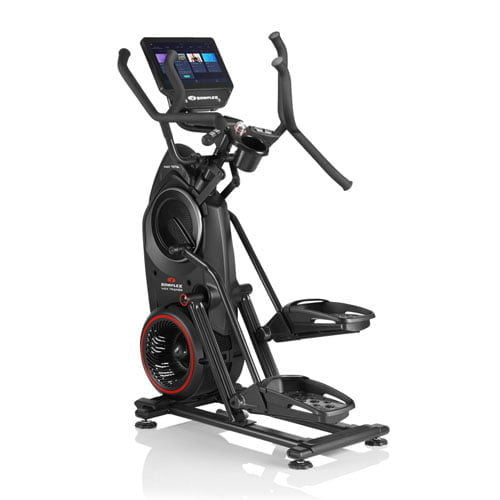 Pros
16-inch high-definition touchscreen console
Bluetooth connectivity
6-grip handlebars (up, mid, and lower levels)
Shelf for media and Bluetooth speakers
20 resistance levels
Cons
May have difficulty reconnecting Bluetooth-enabled headphones
Resistance levels do not automatically change with the chosen workout programs
2. Bowflex Max Trainer M9
If the Max Total 16 is not within your financial range, the Bowflex Max Trainer M9, a smaller version for a much lower price with relatively similar features and the same benefits as the Max Total 16, can be for you.
This machine displays a 10-inch high-definition interactive console, which can also be connected to WiFi.
It also has 20 resistance levels for high-intensity interval training, which you can change from time to time using the steel resistance dial.
A JRNY experience through membership can also be experienced in the Max Trainer M9 to reach different routes across the world and stream videos through your console.
A downgrade from the Max Total 16, this machine only has 4-grip handlebars, which is justified as the two machines differ in overall size.
You can still get the heart rate armband and Bluetooth connectivity with the Max Trainer M9.
Overall, it only costs $1999 or a $112 monthly installment for the 18-month promotional financing.
Pros
10-inch high-definition touchscreen console
Bluetooth connectivity
4-grip handlebars (up, mid, and lower levels)
Shelf for media and Bluetooth speakers
20 resistance levels
Cons
May need to sign in every time using a username and password to open your user profile
May have occasional resets
3.) Bowflex Max Trainer M6
When you think the two prior options are still too much for you as a beginner in the fitness world, there's still another piece of equipment that can fit your needs.
The Bowflex M6 does not have immersive consoles like the previous ones but offers an adjustable shelf where you can use your tablets or phones to follow specific programs.
You can also charge the gadget on your shelf because of the USB charging port present in the M6.
Nevertheless, it has 16 resistance levels with a burn rate display to track the calories burned.
It can still track your heart rate through Bluetooth and contact grips integrated into the machine.
In this machine, you can still immerse into the features of the JRNY app using your gadgets (e.g., tablet, phone).
Moreover, the essential detail is it is priced for only $1499 or a monthly payment of $84 for the 18-month promotional financing.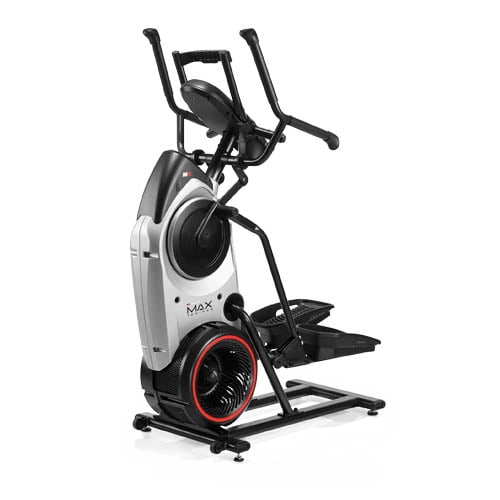 Pros
Burn rate display
Adjustable shelf for media
16 resistance levels
Heart rate monitor contact grips
Cons
May have tolerable noise from the fan during high-intensity workouts
Conclusion: Is the Bowflex TreadClimber Worth It?
After reviewing and diving deeper into the Bowflex TreadClimber, we think it's a piece of equipment worth the investment, especially for those who prefer walking and doing low-impact workouts (but not on treadmills).
You'll have the benefits of a treadmill, stair climber, and elliptical in one with additional features like:
Workout programs
A compact design of console (e.g., USB ports, shelf)
LCD screen
Varying resistance levels
Tracking calories burned, time, speed, distance, and more
However, if you have extra money to spend, you can choose other Bowflex equipment (like the Max Trainers) that have touch-screens and are not limited to just walking.
With these TreadClimber alternatives, you can get the most out of your money with the best deal possible.
You check out the Bowflex website to see what equipment can allow you to burn more calories, achieve your fitness goals, and fit your needs.