Most, if not all of us, want a healthy body all the time.
However, only a few have the spare time and energy to go to gyms regularly. This is why having a home gym of your own is the best answer.
You might have already considered going for Bowflex gym equipment in your starting stage. But, there are a VAST number of brands offering more deals you can choose from.
We will show you the top 8 Bowflex alternative options for home gyms you should consider.
8 Best Bowflex Alternative Picks for Your Home Gym
Bowflex equipment at your home gym is a good choice as they have been a well-known brand for years.
But, it is also widely known that Bowflex products are a bit pricey.
Thus, it is best to look at all options before deciding what to purchase. For sure, you don't want to regret buying the wrong one when there are a lot of choices available for sale.
Nothing hurts more than accidentally finding a better choice right after your purchase.
Check this list of Bowflex alternatives first.
If you are not satisfied, then you can proceed with completing your home gym with a Bowflex dumbbell set, cardio machine, rowing machine, and more.
1. Treadmill TR4000i – Best Overall
Specifications:
Belt: 20″ by 60″ dimensions
Motor: 3.25 HP
Workout Programs: 21
Phenolic Deck: 1″ thickness
LCD Screen: 7″
Built-in Bluetooth
Lifespan may be one of the newest brands on this list, but they have already gained the trust of several commercial and home gyms.
They also gathered several awards for making affordable and high-quality products. These are from different popular reviewers, such as Health Magazine.
Trying their top-tier, high-power, durable, and high-quality Treadmill TR4000i will make you loyal to the brand.
You can also list this product on top of the most foldable and non-foldable treadmills on the market.
This treadmill is more than enough for your home use as it supports walkers and runners well. This is definitely the best alternative at the best price range.
It added more compatibility with smartphones via Bluetooth, giving you added MOTIVATION for your audio, video, and other entertainment needs while working out.
Increase the workout intensity to 12mph, and you are still safe with this treadmill. It can support users with up to 350 pounds due to steel frame and aluminum-based handles.
Pros
Compatible with smartphones
Intensity options can be changed quickly
Provides more cushion with a two-ply track
Cons
Quite large when unfolded
2. Smooth Fitness 13.75 TL Treadmill – Best Value
Specifications:
Belt: 20″ by 60″ dimensions
Motor: 5.0 HP
Workout Programs: 9
Cooling Fan: 8″
LCD Screen: 10″
Built-in wireless connectivity
You can find everything you need in this alternative.
This is from one of the OLDEST and most known brands in the industry — Smooth Fitness. Treadmills and exercise bikes are among the common products they manufacture and sell.
Do you have little to no time for exercise due to your busy schedule?
The 13.75 TL lets you check emails, browse the internet, and open your social media while walking or running. You can do this on its 10-inch screen with wireless connectivity.
It also offers a user-friendly console area. This goes with an unlimited entertainment option for added workout session fun.
Other than that, it offers more weight capacity at 400 pounds than most treadmills.
This is quite expensive at about $4000, but it gives the value you deserve for its price.
Pros
Easy to use consoles
Has a goal-setting feature for your workouts
Spacious running area
Cons
No free chest strap for its wireless heart rate monitoring
Requires you to be a member iFit before using the product
3. ProForm Smart Pro 2000 – Best Budget Pick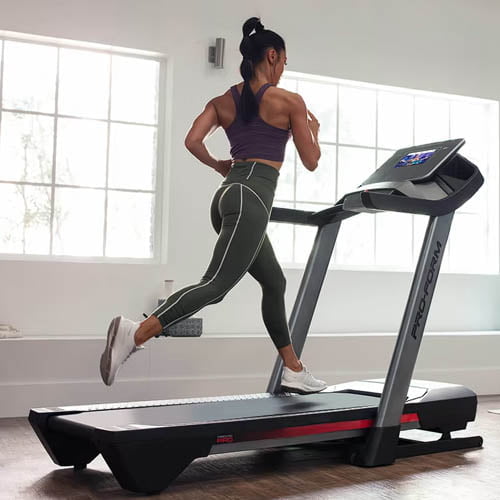 Specifications:
Belt: 20″ by 60″ dimensions
Motor: 3.25 HP
LCD Screen: 10″
Workout Programs: 50
Weight Capacity: 300 pounds
Built-in Bluetooth Speaker: 2 inches in size
Proform is known for selling budget-friendly and well-priced products — like the Smart Pro 2000.
Specifically, the brand manufactures treadmill models as low as $799 up to $1999.
Try the ProForm Smart Pro 2000 and feel like you have a personal trainer at your home gym.
You don't also have to design your workout plan personally. This alternative has already prepared a VAST number and a unique set of workouts for you.
What's more impressive is you can also choose an outdoor landscape. The treadmill will match its running settings — incline, decline, speed, and more. Pretty cool, right?
You can try all of these leg strength training services for just below $1500!
Pros
Very much affordable
3-12% incline and decline options offer more exercises for your legs
Has a free iFit family membership for 1-year
Has 1.9 diameter thick rollers
Cons
Consumer reports instances of noisy fans
4. Landice L7 Treadmill – Most User-Friendly
Specifications:
Belt: 20″ by 58″ dimensions
Motor: 4.0 HP
Speed: Up to 12mph
Weight Capacity: 400 pounds
You may be considering a brand for your weights already. Now, you might want to check this user-friendly treadmill for your leg exercises.
When it comes to manufacturing beginner-perfect treadmills, Landice has been one of the best in the world since 1967!
Landice L7 Treadmill system offers a variety of leg exercises. Through its diverse control panels, you can go to Pro Sports, Cardio, and Achieve modes.
It also offers up to 15% inclination and more weight capacity at 400 pounds.
This is much higher than most alternatives on this list that only have 12 inches and 3oo pounds!
It may have a higher price range than most alternatives, but you can surely experience and navigate its BETTER features in almost all areas easily.
Pros
Provide assurance with a lifetime warranty
Not noisy for complete workout focus
Soft running surface with VFX Shock Absorption
Usable up to 30 years
Cons
Expensive
Does not give you the folding option
5. NordicTrack Commercial 1750 Treadmills – Best Feature-Packed
Specifications:
Belt: 22″ by 60″ dimensions
Motor: 3.75 HP
LCD Screen: 10″
Workout Programs: 50
Weight Capacity: 300 pounds
Built-in Bluetooth connection
The Commercial 1750 gives you several customization options for your unique standard of needs and satisfaction.
One of its notable features is the ability to choose between joint cushion support and an outdoor running landscape setting.
The former guarantees extra protection for your joints, whether for walking or running. While the latter lets you try the intensity and variation of different outdoor running planes.
The ProForm Smart Pro 2000 and NordicTrack Commercial 1750 have this identical feature. It's like you're running to places around the world in the comfort of your home.
It also has a better incline setting at -3 to 15 inches compared to standard alternatives.
Do you want more width or space for your treadmill? This is also a good option for that with a width of 22 inches!
Pros
Motor is noiseless
Has iFit tracking feature for recommendation and progress checking
Workouts are designed by the best leg developers and trainers
Favorites of most home gym users
Cons
Has several features that might confuse beginners
6. Nautilus Treadmill T618
Specifications:
Belt: 20″ by 60″ dimensions
Motor: 3.50 HP
LCD Screen: 2 windows at 3.75″ and 5.5″ wide
Workout Programs: 26
Weight Capacity: 350 pounds
This alternative is another budget-friendly home gym option for your tight pockets.
High-quality products that are well priced are just common among big brands like the Nautilus company.
Specifically, their T618 already offers a wide 20×60 inches track with 3.5 CHP at only $1,299. Other than that, it also has above-average 26-leg strength training programs.
Also, where can you find a 15 inches maximum inclination in the market at this price range?
This is definitely one of the BEST Bowflex alternatives at an affordable price range.
You might want to stop your search for a while. Check out this Nautilus option now, and you will surely love a fast and long run with it!
Pros
High-quality features for its affordable price
Has enough storage for workout essentials
With a free chest strap for heart rate monitoring
Cons
Shorter warranty than the standard ones
Some runners might want a bit higher motor power
7. Weslo Cadence G5.9 Treadmill
Specifications:
Belt: 16″ by 50″ dimensions
Motor: 2.25 HP
Speed: Up to 10mph
Workout Programs: 6
Weight Capacity: 250 pounds
If you are looking for another budget-friendly brand and alternative, this one's for you.
Where can you find treadmills under $500? Only in Weslo, with its parent company, ICON Health and Fitness, which is known for budget-friendly options.
Weslo Cadence G5.9 Treadmill is definitely the cheapest choice on this list.
Thus, you must manage your expectations as it also has below-average specs.
It has smaller increments than standard alternatives. Specifically, its dimensions are 16 x 50 inches, which is enough for its motor power at 2.25 CHP.
If you have a small space, a small body, and a small budget, this choice is perfect for you!
Pros
Very affordable for your starting home gym
Perfect for small home gym rooms
Has folding option to save more space
Cons
Has small track not recommended for tall people
Manual inclination setting
Can only be used for walking
8. SF-T7909 Optimal Incline Treadmill
Specifications:
Belt: 16.5″ by 48.5″ dimensions
Motor: 1.5 HP
Speed: Up to 7.5 mph
Workout Programs: 12
Weight Capacity: 220 pounds
Built-in Bluetooth speaker
Why pay for more features when you will not use them anyway?
If you are this type of person in your leg exercises, this Sunny Health and Fitness Treadmill should be enough for you.
SF-T7909 Optimal Incline Treadmill lets you burn calories at the lowest possible price.
Through its motor at 1.5 CHP, it is ENOUGH for you to do regular walks and jogging without going outside.
You can only perform cardio lightly on this treadmill. But, it is still better than not doing anything for your legs, stamina, and weight problems.
The quality of this alternative is LOWER than the standard options. But it is priced low and just right.
Pros
Has a folding feature to save space
Has wheels for easier transport
Very much affordable
Cons
Low motor power
Small track size
An Overview of Bowflex Fitness Equipment
If you talk about gym products, the brand has been easily recognized by most gym people since 1986.
A Bowflex REVOLUTION has been happening for years in the industry. You can see this with their gathered awards, media coverage, and sales.
This clearly indicates that they have been creating total gym good quality products.
Bowflex fitness equipment ranges from the following:
Strength training
Weight loss exercises
Different body workouts
One of its most popular products is the Bowflex Selecttech adjustable dumbbells. This strength training equipment lets you change weight plates perfectly to your liking.
Check their online and offline store now. There are workout machines, gym weights or dumbbells, and more.
Why Get Bowflex Alternatives?
We can't deny that Bowflex is one of the most popular brands in the industry.
Try asking any gym person about brand recommendations for adjustable dumbbells, and you will know.
However, their several years of fame also came with different issues, such as safety problems for their products and a high price range.
Safety Issues
One of the biggest Bowflex drawbacks is its safety issues in 2004.
Several types of machines or equipment from the brand failed, which led to injuries.
A few of these malfunctions resulted in lacerations, pulled ligaments, neck injuries, and more.
The good thing is one of its latest posts relayed wide developments across all Bowflex machines, weights, and gym products.
But, the gym equipment safety issues in 2004, 2006, and 2007 will REMAIN to circle around the industry.
Price
Only a few people can afford to start a home gym equipment purchase at almost $3000.
Price is the main reason why people look for alternatives. This is true in buying all weight plates, adjustable dumbbells, and any workout machine.
For sure, one of your main goals is to SAVE MONEY.
Setting up your home gym should not add too much weight to your struggling pockets. But, you can guarantee that Bowflex is worth it if you are willing to spend more.
Overall, there are a large number of brands selling gym equipment in the market.
You can definitely search for several alternatives selling safer weight plates, dumbbells, treadmills, and other total gym services.
Frequently Asked Questions (FAQs)
Bowflex is a good brand that offers total gym miracles through its equipment. But, you might still wonder why it is good to have Bowflex alternatives on the market.
Below are some answers to your relevant questions:
What Is Similar to Bowflex?
Nordic Track is one of the companies closest to Bowflex but in a lower price range.
This company also offers home gym equipment that you can see in Bowflex stores.
One notable fact is that it even started earlier than Bowflex.
Treadmills, exercise, bikes, rowing machines, dumbbells, and more are widely available on their website and physical store.
You can check their online website and see different affordable deals for any workout machine you need at home.
Is It Worth Buying a Used Bowflex?
Did someone offer you to buy his used Bowflex Selecttech weights or other home gym equipment?
Yes, a used Bowflex is worth buying. But, before you give your cash, you should still check its condition and assess the offer.
You surely don't want to harm yourself instead of just getting your body in better shape.
Better if you consult a friend who is more capable of inspecting the product. This ensures the product is still in good condition and is fair for its lower price.
Different durable adjustable dumbbells or any machine are useless for reckless owners.
Why Is Bowflex Expensive?
Bowflex already has more than enough weight stack (popularity and credibility) in the industry.
It already has its fair share of bad reviews and issues. But, it ultimately cannot erase the high-quality products the brand produces.
Look at the popularity of their adjustable dumbbells like the Bowflex Selecttech, for example.
It is adjustable and durable, PERFECT for a small home gym space.
If you have the budget, having any Bowflex machine is definitely worth it.
A Recap of the Top Picks
We have already done the search for you.
The 8 options above are among the best for the various categories you have in mind.
Here's a summary of the top 3 best Bowflex alternatives we recommend:
Best Budget Pick – ProForm Smart Pro 2000
You don't have to worry about having a lower budget.
The ProForm Smart Pro 2000 is one of the most affordable alternatives up for sale.
Giving you the chance to customize your workouts at an entry-level price is one of its strengths.
Are you tired of the 50-built workout programs? Pick a street on your Google map, and it will match the setup like you're walking outside in real life!
Best Value – Smooth Fitness 13.75 TL Treadmill
If you have enough budget for your home gym, this Smooth Fitness Treadmill is worth it.
It has a higher price range than most choices on this list. But, you can't deny the value it offers for having more useful features and high specifications.
Where can you find a machine that lets you work and work out simultaneously?
Checking emails and browsing the net while exercising offers an excellent solution for busy people.
Best Overall – Treadmill TR4000i
Now, it's time for the best option on this list of Bowflex alternatives.
Being manufactured by one of the best brands is already a good start for this product.
Lifespan did an excellent job in fitting above-average specs in this low-price alternative.
Durability, high-speed workout, and easy-to-use consoles are just a few of this product's remarkable specs.
We're sure you will use this TR400i for years and will not want an upgrade!
Conclusion
As cliche as it may seem, we must invest in our health as it is our wealth.
Buying dumbbells, weight plates, exercise bikes, treadmills, and other equipment is one of the best ways to invest.
You can find the best Bowflex options for these fitness equipment, but maximizing the luxury of several available brands might be the wisest way to start your home gym.
While the Bowflex brand is undoubtedly highly-rated and reliable, you can still find cheaper and just-as-good alternatives on the market!