Today I am going to do something I have never done….a link up.  I read these all the time but never seem to take part and I thought this was a good time to start! I'm linking up with Finish the Sentence with Holly and Jake.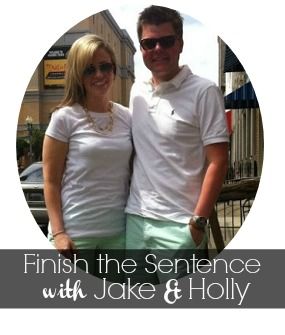 My Happy Place….is so many different places: home alone reading; at my Crossfit box with the hubs and great people; laying by the pool, with good music and friends.
Whatever Happened To…treating others the way you would like to be treated? I am so over bullies, rudeness, snobs and self-centered people.
So What if I….love sappy romance books.  Not the super trashy kind, but the sweet, always-have-a-happy-ending romance kind. Ok, so I devoured the Black Dagger Brotherhood series…shoot me.
E! needs a reality show about…Crossfitters! And I don't just mean the elite ones.  They should do a show highlighting several people at all stages of their Crossfit journey. Talk about being inspired – that would do it!
My go-to fast food meal is…taco bell. I know, eeeewwww, gross! I haven't had it in a LONG time, but that would be it if I had to choose.
You might not know that I…grew up without a television until we had to get one for my brother's home schooling tapes.  Even then, we were only allowed to use it for school or pre-approved movies.  I have watched Swiss Family Robinson more times than I care to guess at (and was in love with Fritz) and all the Herbie movies.  My friends still make fun that I was an adult before I saw movies like Pretty in Pink or Sixteen Candles.
The hottest QB in the NFL is…going strictly off the ESPN NFL Players by Position roster list….Zac Robinson of the Cincinnati Bengals.  There were a few strong runners up, but going just by those pictures – Zac won hands down!  Those eyes….
If I could…afford IVF, I would do it tomorrow; or, alternatively, if I could…convince my husband to adopt, we would do that too!
My personality is awesome because…I enjoy life and enjoy helping others do the same.
Twerking is…obnoxiously weird, yet still makes me laugh when I see someone doing it – especially if they think it looks cool.
I think its super gross when…people "farmer style" blow their nose.  Eeeewwwww!
Someone needs to tell Miley Cyrus…what a role model she is for parents when then sit their kids down and explain how to get the wrong kinds of attention, how to ruin ones reputation and how to look like a sad, disgusting child screaming for attention from the world however she can get it.  She is the poster child for what NOT to do if you want to become a productive member of society.  Congratulations girl, wear that badge with honor.